.
.
.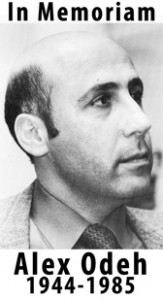 Yesterday marked the 26th Anniversary of the murder of Alex Odeh. Alex was killed on October 11, 1985, when a powerful pipe bomb exploded as he unlocked and opened the door of the American Arab Anti-Discrimination Committee (ADC) office in Santa Ana. In addition to killing Alex Odeh, the bomb injured several other victims.
Alex was ADC's Southern California Regional Director, a published poet, a lecturer of Arabic Language and Middle East history at Coastline College in Santa Ana, and a tireless peace activist. He dedicated his life to the defense of civil liberties at home, and civil and human rights abroad. On the day of his murder, Alex was scheduled to speak at Friday prayer services at Congregation, a synagogue  in Fountain Valley. Alex was a U.S. citizen and a Palestinian Roman Catholic, who had immigrated to the U.S. in 1972. He is survived by his wife Norma and their three daughters.
The FBI's case into Alex Odeh's murder remains open, with a reward of up to $1 million for information leading to an arrest and conviction. However, no arrest has yet been made in spite of the fact that press reports have stated over the years that the FBI identified members of the Jewish Defense League (JDL) as suspects. None of the identified JDL individuals has ever been charged or prosecuted in connection with the murder, and some have fled to Israel. According to the FBI, the JDL has been involved in more than 40 terrorist acts since its inception in 1968. (Its members were allowed to freely disrupt a 2005 event at Cal State Fullerton, unlike what we've recently witnessed in the Irvine 11 case.)
The lack of closure of Alex's murder by the FBI and the Department of State (DOS) has been viewed as a sign that the life of an American civil rights advocate with Palestinian roots is not valued by the U.S. Government as much as other American lives. The FBI and DOS should allocate necessary resources for resolving this domestic terrorism case.