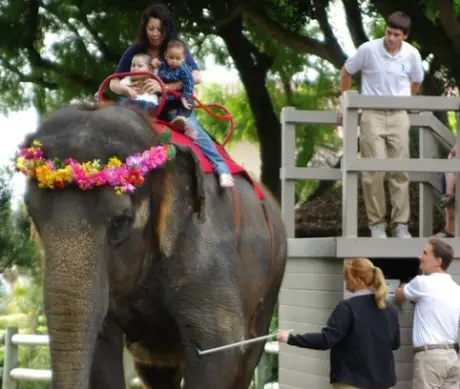 The People for the Ethical Treatment of Animals (PETA) has been opposed to elephant rides at zoos for many years.  The only zoo in Southern California that allows elephant rides is the Santa Ana Zoo.  Now PETA has ramped up the pressure, targeting our Mayor, Miguel Pulido.
Last week,  PETA raised the stakes by enlisting stage performer Charo, who wrote to Santa Ana Mayor Miguel Pulido, asking him to ban the rides. The group contends that the rides are not possible without cruel training methods, according to the L.A. Times.
Zoo Director Kent Yamaguchi brushed aside activists' claims that the rides are abusive or unsafe and said they will continue because he is confident the animals are well cared for and that care-givers use the strictest safety guidelines and most humane training methods. If there were any evidence of mistreatment, he said, he would end the rides immediately.
Elephants are not culturally relevant to Orange County.  And they may career tuberculosis.  So why not switch to burros?
Click here to read the rest of this post.