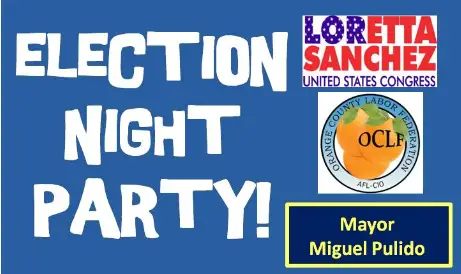 Well, the election is upon us and it is time to start thinking about Election Night parties!  Here is the latest rundown of the parties I am aware of:
The Orange County Labor Federation is going to be conducting Get out the Vote (GOTV) activities on Nov. 1 and 2.  To view their GOTV schedule click HERE.  After the polls close on November 2nd,  join them for an election night party.  This will be a big "thank you" to all who volunteered.  Click here for more information, including the location of the party.  Apparently there will also be a free salsa concert.  Click here to RSVP.
The Democratic Party of Orange County will be gathering to watch the local and national returns on big screen television at Original Mikes, located at First and Main in Santa Ana, at 8 pm.  This is being billed as a "Rock the Vote" event and is being promoted also by ECCO.  http://tinyurl.com/rockthevotesa
Election Night and Dia de Los Muertos Celebration.  Celebrate with 100 grassroots SOL organizers that have hit the pavement hard for a month to make sure Meg doesn't kill our DREAMs.  Where: 1200 N. Main, Suite 920, Santa Ana,  When: Tonight, after you come back from precinct walking (!), after 8:30 PM.  What: Food, DJ, view election results, Community altar (feel free to put an offering to someone that has passed).
The OC GOP is having a "Get-Out-The-Vote for Van Tran for Congress" event on Election Day ~ Tuesday, November 2, from 4:00-8:00 PM ~ Victory Party to Follow.  Meet at the campaign headquarters, at 12942 Harbor Blvd, (NE corner of Garden Grove Blvd.), Garden Grove, 92840.  http://bit.ly/bl7NGN.
Shawn Nelson is having an Election Night Party also at the Matador Cantina, located at 111 N. Harbor, in Fullerton, at 7 pm. http://www.nelsonforsupervisor.com/nov2/
The Voice of OC will host an election night pre-party at its headquarters in downtown Santa Ana from 8:00 p.m. – 9:30 p.m. where the public can gather to watch and discuss the first election night returns. Drinks and snacks will be provided. If you have any questions, please call them at (714) 315-2856.  The Voice of OC office is at 207 N. Broadway, Suite H, Santa Ana, CA 92701.
The Atlas PAC and the Leadership Alliance are also having an Election Night Celebration, featuring music, no host bar, live election results on large screen TV's.  Admission is free.  Time: 7:00 pm  Location: Irvine Hyatt Regency Hotel, Irvine, CA.  cchell@atlaspac.org.  http://www.atlaspac.org/Calendar.aspx?EventID=141
Anaheim City Council candidate Thomas "Haogy" Holguin is having a part on Tuesday, November 2nd, at 7pm, at the Hotel Ménage, located at 1221 South Harbor Blvd., in Anaheim, CA 92805.  Click Here For Map. Join Thomas Hoagy Holguin, his family and staff as we watch the election results and celebrate an election victory!  The celebration will run from 7 pm to 12 am. Light hors d'oeuvres will be served. We will have WiFi access, so bring your laptop for life election updates! For more information, please contact Hoagy at 714-533-3334.
Beth Krom is having an Election Night party on Tuesday, November 2, from 8:00pm – 11:00pm, at the Irvine Hilton, located at 18800 MacArthur Blvd., Irvine, CA.
The Santa Ana Educators' Association is having a party as well, at their headquarters, in honor of their endorsed candidates, which of course were the incumbents.  These guys always go with the incumbents.  Click here for more info.
If you know of any other Election Night parties, please post as comments.  Thanks!  Good luck to all the candidates.