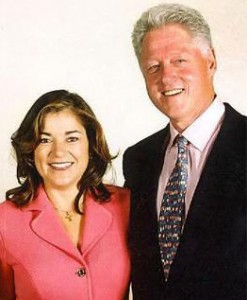 The Loretta Sanchez Campaign is getting a huge boost this Friday, Oct. 15, when President Bill Clinton will be coming here to Santa Ana, at the Old Orange County Courthouse, located at 211 West Santa Ana Boulevard, at 3pm, to promote Sanchez.
The entire Santa Ana City Council should be there, except for Carlos Bustamante who has been promoting Sanchez' GOP opponent, Van Tran.  Mayor Miguel Pulido is expected to welcome Clinton to Santa Ana.
Tran recently brought in Rudy Giuliani, but that guy is not the rock star that Clinton is.  Not even close!  This will be a great event for Santa Ana.
Sanchez supported Clinton when he campaigned in Santa Ana in 2008, on behalf of his wife, then-presidential candidate Hillary Clinton. She introduced him at a rally at Santa Ana College that drew around 400 people, according to the O.C. Register.
The old courthouse that will host the rally is in Santa Ana's Civic Center area. Drivers on the I-5 freeway coming from the south should take the Grand Avenue exit and turn right onto Santa Ana Boulevard; drivers coming from the north should exit at Broadway, follow it for about two miles, and then turn left at Civic Center Drive.  Parking will be available at Third and Sycamore streets and at Main and Fifth streets. Pay parking is also available at Sycamore and Fifth streets, according to the O.C. Register.