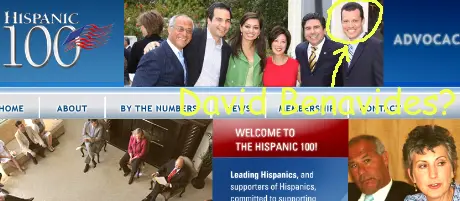 No bueno!  Santa Ana Councilman David Benavides appears on the home page of the so-called "Hispanic 100," which is really a front for the Republican Party.  Note that GOP Senate candidate Carly Fiorina also appears on their home page, as does Santa Ana Councilman Carlos Bustamante – the last Republican on the Santa Ana City Council.
Their President is Mario Rodriguez, a GOP consultant who worked in the Bush administration.
Why is Benavides hanging out with these people when he is supposed to be a Democrat?
A few weeks ago Benavides found himself in hot water when he honored Lupe Moreno and a bunch of her fellow Minutemen, after they took over the Santa Ana Independence Day event – during which one of them called Santa Ana residents "wetbacks."  Benavides told me when he appeared on the Orange Juice Blog Radio show that he has no problem working with Moreno.  Of course he doesn't – he appears to be a closeted Republican!
Click here to read the rest of this post.