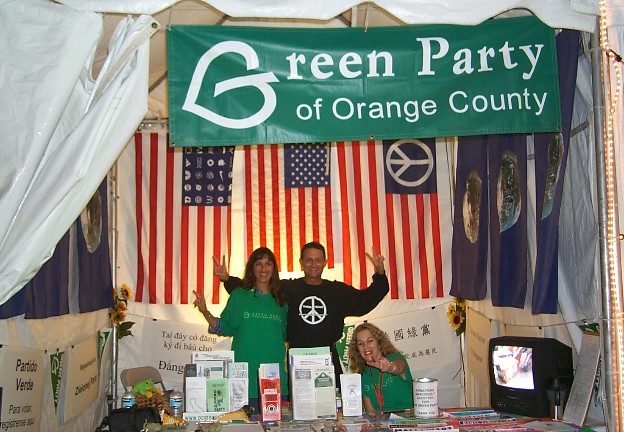 This weekend, the Green Party of California will be gathering at the Fullerton Dancesport Center (Imperial Ballroom) on Saturday, September 11th and possibly on through Sunday. Delegates and others from across the state will be present for a General Assembly. Online Registration for the event is closed. Any who plan on attending can register and pay at the door.
As for California campaigns, Laura Wells is running for governor if you feel the only Brown worth voting for lays resting in peace in a cemetery somewhere. Anaheim's own Duane Roberts is continuing his bid for the U.S. Senate – which hopefully can be followed up by a much more probable run for the Anaheim city council. His latest announcement comes in the form of calling on a repeal of federal laws criminalizing marijuana. Greens really go green!
Electoral campaigns are only a part of what the Greens do, however. They are also backing a lawsuit of Prop. 14 – the snide legislation passed in June that unconstitutionally schemes a top-two system at the ballot box when REAL reforms that are needed, like instant run-off voting, are ignored. Anyone who accuses the Greens of being spoilers needs to examine how spoiled to the core the two-party duopoly is and continues to be.
Anyway, the General Assembly shindig, once again, goes down starting this Saturday at 114 E. Commonwealth Ave. in the city of Fullerton.