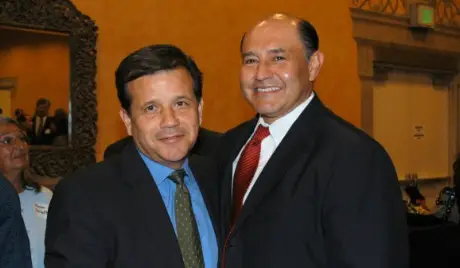 Santa Ana Mayoral candidate Alfredo Amezcua brought his whole gang to tonight's Democratic Party of Orange County meeting, at the Teamsters Hall at Marks and Chapman in Orange, but it was all for naught.  Santa Ana Mayor Miguel Pulido got the endorsement of the DPOC!
Amezcua's mob lost their minds, according to a pajarito, and DPOC Chairman Frank Barbaro had to threaten to escort them out of the room, after they started screaming that not all the votes had been counted.  Amezcua's supporters at the meeting included a Republican, Art Lomeli, as well as Albert Castillo, Claudio Gallegos, and Zeke Hernandez. 
… 
This endorsements means that Pulido will be appearing on all DPOC walk pieces, door hangers and slate mailers.  Obviously this is a huge blow to the underfunded Amezcua campaign, which has been touted heavily of late on the Liberal OC blog, which has also been attacking Pulido mercilessly.
Click here to read the rest of this post.