The Orange County Fairgrounds saga continues to have as many twists, turns, ups and downs as any stupid metaphor you can think of. THIS WEEK'S TWIST features the OC Fair Board (legally known as the 32nd Agricultural District) – almost all appointees of Governor Schwarzenegger, and at one time his loyal puppets.  But apparently – if things are indeed as they seem, which they rarely are around here – they have just tossed a monkey wrench into the sale, which was originally Arnold's brainchild and which he's been hellbent on consummating.  In short, they've uncovered a 1949 deed which seems to confirm that they own the property and the state has no right to sell it.
[UPDATE: See the original "quitclaim" deeds in PDF form here and here – Orange Juice exclusive thanx to our friend TechCowboy!]
Well, this Fair Board – mostly wealthy, insider-Republican contributors to Arnold – has sure played a very ambiguous role from the start.  We probably wouldn't be in the perilous situation we're in now if they hadn't signed off on the sale back in July of last year, formed themselves into a Foundation to buy it themselves, and hired ex-Senator Dick Ackerman to go back up to Sacramento and lobby for the sale.  Strangely, today they denied ever having approved the sale last year, leading to a comical few back-and-forth moments of "Yes you did!" from most of the audience versus "No we didn't!" from the Board.  They also continue to insist that their attempt to buy it themselves last year was nothing but a well-intentioned ploy to save it for the public.  But somehow it seems as though we're all on the same page at last.  Or as my research assistant puts it, "They're finally singing the same tune as us, even if a few of their notes are flat."
Although all the usual Fairgrounds Swindle junkies showed up, only two of us went up to speak at public comments – the rest of us just sat there trying to wrap our minds around the new reality.  My research assistant, throwing caution to the wind, strode up to the podium and announced, "Given your new position, I'm leaving all my usual recriminations outside the door today."  (Cutthroat Newport Beach political player Dave Ellis shot back with a grin, "Yes, you look lighter than usual!")  He went on to make the point that what the Fair Board needs more than anything else is a historian – we've been telling them for a year that we and they own the property and Arnold has no right to sell it.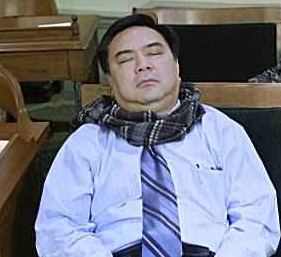 There were two of our state legislators there – the only two who have ever shown much interest and put any effort into this burning issue  – Jose Solorio and Lou Correa. (Okay, that's a little unfair to South Gate's Hector de la Torre, South County's Diane Harkey, and the angelic Jim Silva) Conspicuously absent, and invisible throughout almost all this process even though the property is in HIS district, was Van Tran. Since showing up and grandstanding at last November's townhall, he's done nothing but rarely popping up and making cryptic comments ONLY after other people have done all the "heavy lifting." Is his run against Loretta eating up THAT much of his time?  I don't think this reflects well on him, voters of the 47th Congressional District.
As Jose left early for another important engagement, I chased him outside to ask "What does this mean?"  He says that this ownership question is "really not new information," BUT now that the Board is asserting their rights, it could be useful for creating more DELAY, which is exactly what we need to drag this out until we have a new Governor, which he pronounces  "Jerry Brown," smiling.
Lou re-iterated comments he's made before – it's unfair that only Orange County should be asked to sacrifice for a budget abyss that belongs to all 58 California counties, and the deal Costa Mesa struck with Facilities Management West, while doubtless the best deal that could be made with these sharks, is irretrievably Suck-o.  (My paraphrase.)  He confirms that the IMMEDIATE danger right now is a "rider bill" being sneaked through the budget process – as early as this week – including authorization of this rotten deal.   This is how the original authorization slipped through last year, with nobody paying attention but the crooks.  This time I believe we have the whole OC delegation keeping an eye out to make sure that doesn't happen (except for wingnut Chuck DeVore who believes ideologically that property shouldn't be publicly owned.)
Hats Off to the Horsies!
Equestrian and Derail the Sale activist
Nancy Ridge, with Gemini
So it's true what we've been saying all along – the Fairgrounds were bought, from the US Army, by our taxpaying Orange County grandparents, so that we could pass them on to our own grandkids, and preserve the County's agricultural heritage.   Now we know exactly what the deal was – the property sold for 130 grand – half of which came from the "32nd Agricultural District" (today's Board) and the other half borrowed from the state's horse racing fund.  Not one penny came from the state's general fund.
It's appropriate to find that we couldn't have bought this property, never would have had this Fairgrounds to begin with, without the contribution of racing thoroughbreds.  Because today's Orange County equestrians have been in the forefront all year long in the effort to derail the sale.  One more reason to cherish and protect our Equestrian Center, which has been harassed and whittled away at by this Board since long before the Great Fairgrounds Swindle.  Okay?
Today's verse:
Through many dangers, toils and snares
we have already come;
'Tis grace hath brought us safe thus far,
and cussedness will win the day!