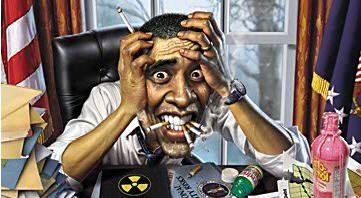 Bad news this week for Democrats.  The L.A. Times reported that a new poll released Monday "shows that there is unhappiness brewing at the other end of the political spectrum as liberals are becoming more disenchanted with Democrats, whose control of Congress is being threatened in the midterm elections."
But that's not all.  The L.A. Times also reported in a separate article that another survey is showing that Independent voters are swinging Republican, and seven out of ten of them believe the country is going in the wrong direction!
A survey conducted for Independent Women's Voice, a nonprofit, center-right group, also shows Republicans well-positioned to pick up independent voters in the midterm elections on Nov. 2.

A total of 40% of independents planned to vote Republican, compared with 18% who said they would vote for a Democrat, according to the survey, part of which was conducted Sept. 15-16.
Oy vey!  This surely cannot be welcome news over at the Loretta Sanchez reelection campaign.  Not only is the liberal base waning, but now the independents are moving to the right.
November could be a real bloodbath for the Democratic Party, if these trends hold up.  The downside of that is we will be stuck with a bunch of new, truly nutter Republican Representatives.  Obama will have a heck of a time getting anything down over the next two years, after he loses the House of Representatives.
To put this all in perspective, "In 2008, Obama won 52% of the independent vote, compared with 44% for the Republican presidential nominee, Sen. John McCain of Arizona. Now, 60% of independents disapprove of Obama's job performance, while 54% said that partisanship in Washington has grown since Obama was elected," according to the L.A. Times.