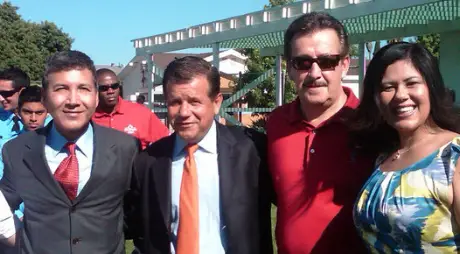 Mayor Miguel Pulido, with Angels owner Arte Moreno, and Council Members Vince Sarmiento and Michele Martinez
I have spent years fighting the folks at Santa Ana's City Hall, and have been, quite frankly, brutal in writing about our Mayor, Miguel Pulido and our City Council.
The high point of the "revolution" was beating Pulido's hand-picked candidates, Tino Rivera and Jennifer Villasenor, in 2006.  Michele Martinez beat Rivera, in Ward 2, and Sal Tinajero beat Villasenor, in Ward 6.  Both benefited from vote-splits that occurred when other challengers took votes away from Pulido's picks.
The low point, for me, was when Tinajero allied with the Pulido majority.  I was not pleased, to say the least.
In 2008, Martinez inexplicably challenged Pulido.  I found out later that Alfredo Amezcua put her up to it.  He later denied it, but the source of that tidbit was Supervisor Janet Nguyen, with whom Amezcua is still allied.
Click here to read the rest of this post.