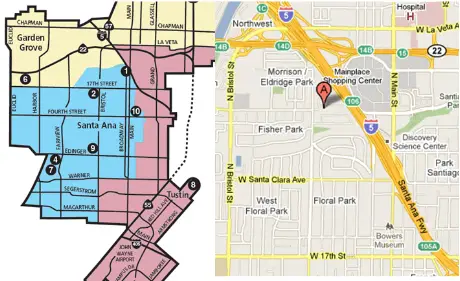 An anonymous tipster told me a few weeks ago that Al Amezcua, the local attorney who is running for Mayor of Santa Ana, was registered to vote at his law office, located on 1319 N. Broadway.  I could not believe it but today I verified this with the Orange County Voter Registrar's office.
Amezcua changed his registration to that address from a previous address in Santa Ana's Morrison Park area on July 21, 2008.  On the surface though that doesn't make sense as when I looked at the map of Area 1 of the Rancho Santiago Community College District I found that Amezcua, who served in that Area as a Trustee, apparently didn't live in the Area.  Check out the graphic above.
It certainly looks like Amezcua didn't live in Area 1.
Click here to read the rest of this post.