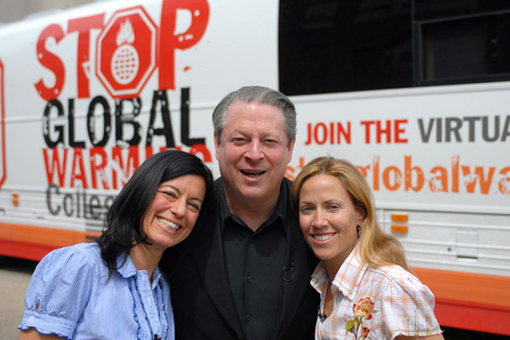 That's Laurie David, on the left.
Republicans rolled their eyes when Al Gore, the former Vice President under Bill Clinton, announced his separation from his wife, Tipper.
Now a rumor is being spread by Star Magazine that Gore cheated on Tipper with Laurie David, the ex-wife of T.V. director and actor Larry David, who created the Seinfeld show and stars in HBO's "Curb Your Enthusiasm."
But according to a report on E-Online, the story is bogus:
"The rumor is completely and totally untrue," Laurie David said in a statement. "I adore Al and Tipper and consider them part of my family. I'm in a committed relationship and couldn't be happier."
I am pretty sure that Gore gets hit on all the time by his enviromental groupies, and perhaps that factored into his separation.  But ultimately marriages sometimes fail because folks just fall out of love.
Ask Newt Gingrich.  How many of his receptionists has he married and divorced over the years?