On this Memorial Day, let's look back at the seven brave young men the OC has tragically lost in the year and a half since I last did this – the year and a half since we've had our new Commander in Chief.  During this time, as President Obama promised, we've wound down Operation Iraqi Freedom while drastically ramping up operations in Afghanistan.
Let's honor these warriors' ultimate sacrifice today, and pray that our leaders know what the hell they're doing and that this terrible decade of war will wind down soon.  So that we have no more stories like these:
In April of last year, at the age of 22, Army medic Bryce Gautier of Cypress was killed in Mosul, Iraq, with four other troops when a suicide bomber detonated a truck full of explosives at the entrance to a police headquarters.
In high school, swimming and water polo were a big part of his life.  His teammates remember him as always joking around with "running commentary," but never in a way to put other people down.
Shortly before his death, he told a female friend on his My Space that he hoped to come home with his experience as a medic and get a job as a nurse.
That was in Iraq – all the rest of these happened in Afghanistan: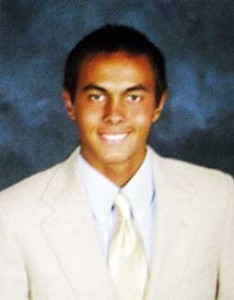 Last August, 20-year old Lance Corporal Donald Hogan of San Clemente was killed by a roadside bomb in Helmand Province.
Donald had already been a Marine for nearly three years and received the Combat Action Ribbon, the Afghanistan Campaign Medal, the Global War on Terrorism Service Medal and the National Defense Service Medal.
A cross-country runner at Tesoro High School, he had always admired his Marine grandfather who had served in three wars – WWII, Korea and Vietnam – and Donald dreamed of following  in his grandfather's footsteps.
Just a week later, 19-year old Army Spc. Jonathan Welch of Yorba Linda died of wounds from a roadside bomb in Kandahar province.
He'd lived all over Orange County during his short and rambunctious life, dropping out of Anaheim's Esperanza High and running away, making it through rehab and getting his GED before joining the Army.
Even the Army never changed his love of punk rock, as he frequented Seattle clubs while stationed at Fort Lewis, introducing himself to strangers by his nickname "Spaz" while bouncing about with his boundless energy.
Then last October, La Mirada's Army Spc. Jesus Flores Jr, 28, died in Kandahar province, with three other soldiers, from wounds suffered when enemy forces attacked their vehicle with a makeshift bomb.
Immigrating from Malaybalay City in the Philippines at age 12, "Jun-jun" or "Lil Boy" was described as an untalkative devotee of video games and "airsoft."
Many tributes are posted here in a mixture of Tagalog and English from that area of the Philippines, who are proud to have their own personal American hero.
A month later – last November – 21-year old Lance Corporal Justin Swanson of Anaheim died from injuries he received from a roadside bomb while on combat operations in Helmand Province.
This was Justin's second deployment as a Marine; he'd served a tour in Iraq, then volunteered to go to Afghanistan.  He was a recipient of the Purple Heart and nearly a dozen other decorations.
His old friends from Buena Park High School "remember the big football player as 'a diamond in the rough, full of enthusiasm.' He didn't take things too seriously but always showed his concern for others. When people were down, he put a smile on their faces. Justin actively sought to be a role model to his four younger siblings and younger students, and many people considered him a Big Brother."
Most recently, just last March 24, we lost two Yorba Linda Marines in the same incident, when their armored vehicle struck a roadside bomb in Helmand Province.
19-year old Lance Corporal Rick Centanni, son of a Santa Ana police sergeant, played baseball and football at Esperanza High School, and enlisted in the Marines just weeks after graduating.  You may remember reading not long ago on this blog, of his spectacular memorial service at Yorba Linda's St Matin De Porres church, where thousands lined the streets and Police Chief Walters presented Rick's father with an honorary badge for his son, who had wanted to follow in his dad's footsteps.  A memorial fund, video, and more can be found at rickcentanni.com.
Perishing in the same attack was 45-year old Sgt. Major Robert J Cottle, of Whittier and Yorba Linda – a 27-year veteran Marine and also the first LAPD officer to be killed in Afghanistan.  A fellow LA cop remarked, "R.J. was such a life force, it's hard to comprehend he's gone."
Another cop added, "He just had a new baby. He could have gotten out of this tour, but because he'd just taken over as sergeant major he felt he had a responsibility. He didn't want to send his men out there without him."
As they seem to say about so many of these fallen heroes, Cottle "was a fun-loving guy who had the unique ability to switch instantly from being a jokester to being serious and knowing how to get things done."
Cottle and Centanni had become close before the incident, with "the older Marine taking the younger one under his wing."
Those are the seven heroes Orange County has lost since January 2009. The physically and mentally maimed are not counted so carefully, but are probably ten times as many. Let's honor their memories by dedicating ourselves to bringing these horrible wars to a speedy conclusion.