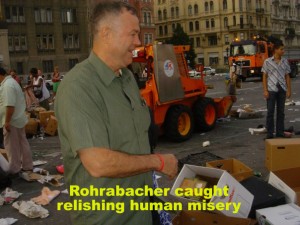 Congressman Dana Rohrabacher graduated from Palos Verdes High School in Palos Verdes Estates, California, attended Los Angeles Harbor College, and earned a bachelor's degree in history at California State University, Long Beach in 1969. He received his master's degree in American Studies at the University of Southern California.
This is not a man who ever lacked certainty.  This is not a man who ever wanted for anything.  In short, Rohrabacher has always lived a charmed life.
Rohrabacher is in the headlines this week because he is outraged that Santa Ana College has started a scholarship in memory of an original Dream Teamer, Tam Tran, who died in a tragic car accident recently, along with fellow Dream Teamer Cynthia Felix.
Tran was a victim of the Vietnam War.  Her family ended up in Germany but the Germans refused to grant them citizenship.  They came here to the U.S. and found a similar cold reception.  Tam grew up here and graduated from Santiago High School in 2001.
Rohrabacher was a supporter of the war in Vietnam.  But, in a February 13, 2003 interview with Toby Eckert of Copley News Service, published in the South Bay (Torrance, Calif.) Daily Breeze, Rohrabacher revealed that he showed up to his wartime draft physical with an X-ray of a hip that he claimed he had injured while playing high school football. "They looked at it and said that my hip wasn't good enough," he told Eckert.
Click here to read the rest of this post.