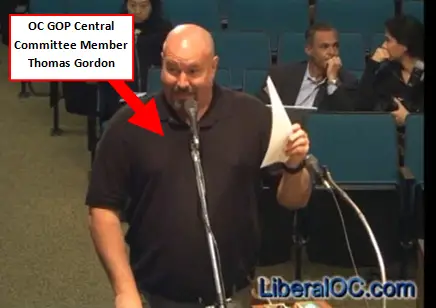 It turns out that the video put up by the Liberal OC blog, mocking Santa Ana Mayor Pro Tem Claudia Alvarez, was not an original idea.
Past Mayoral candidate George Collins, a Republican, did this first. But his video clearly shows why Alvarez got frustrated. She was dealing with another Republican, Lupe Moreno, who was complaining about the fact that the City of Santa Ana scheduled this year's Fiestas Patrias on Sep. 11. However, the City has already moved the event to Sep. 18, when Moreno showed up to complain. It was, in short, a moot point.
Most of the speakers that night were Republicans.  They included former Council Members Alberta Christy and Pat McGuigan, and part-time resident Thomas Gordon, who maintains a second home in Denver, Colorado.  All of them were there to cry about a fence being installed at Centennial Park.  None of them have young children and I bet none of them even go to this park regularly.
Click here to see the George Collins video that the Liberal OC ripped off, and to read the rest of this post.