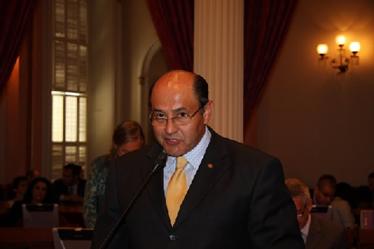 (Photo from file: California State Senator Lou Correa presenting legislative measure in the Senate Floor)
NEWS RELEASE
For Immediate Release: February 23, 2010
Senator­­­­­­­­­­­­­­ ­Lou Correa, 34th Senate District
Contact: John Scribner (916) 651-4034
Correa Jobs Package Introduced in State Senate
SACRAMENTO, CA – State Senator Lou Correa (Orange County) today announced a comprehensive bipartisan legislative jobs package that contains bills separately sponsored by the Senate Democratic Caucus, Republican Governor Arnold Schwarzenegger and members of the Orange County legislative delegation.
Declaring that "We need to get Californians back to work", Senator Correa introduced Senate Bill 1010 in the regular session, Senate Bill 967, Senate Bill 42, in the eighth special session, Senate Bill 1 in the sixth special session, and jointly introduced Senate Bills 965 and 968 in the regular session.
Click here to read the rest of this post.