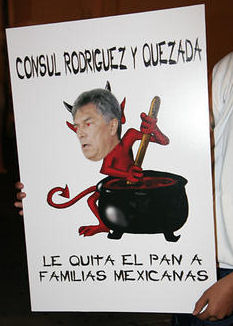 "Mexican Consul Carlos Rodríguez y Quezada is retiring from his post in Santa Ana on Monday, his spokesman Agustin Pradillo Cuevas said today," according to the O.C. Register.
Quezada has been controversial, to say the least.  He replaced a Consul who was very popular, and who fought for the rights of Mexican immigrants.  The problem with Quezada is that, from the first day in his office, he was an elitist.
Apparently the Mexican government has taken note about his unpopularity – and now he is being replaced, by Alejandra Garcia Williams, according to Gustavo Arellano, over at the OC Weekly's Navelgazing blog.
Click here to read the rest of this post.