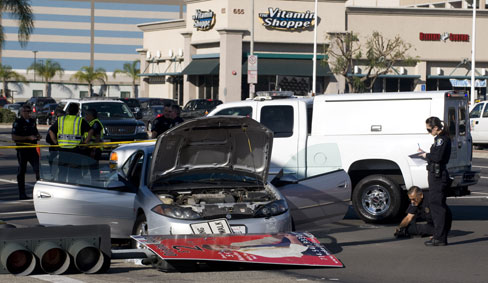 Picture courtesy of the O.C. Register
As I was driving home on Friday, south on Main St., I wondered why the light was out at the intersection of Main and Town and Country – and why there were so many police around.
It turns out that an out of control car hit a man twirling a sign advertising Original Hems, a tailor at the City Place shopping center.
"An older man was driving the Mercury south on Main Street just after 3 p.m. Friday when he lost control near West Town and County Road, said Cmdr. Jeff Owens of the Santa Ana Police Department. A sign twirler working on the sidewalk was hit by the out-of-control Cougar and ended up pinned underneath the car, Owens said," according to the O.C. Register.
There are some folks in Santa Ana who are entirely opposed to sign twirlers.  My concern is for their well-being.
Click here to read the rest of this post.