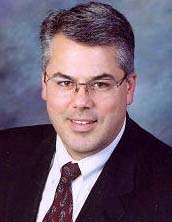 Supervisorial candidate Shawn Nelson, who serves on the Fullerton City Council, picked up a big endorsement today, according to a press release from his campaign.
Nelson announced that State Senator Mimi Walters has endorse his campaign to replace termed out Supervisor Chris Norby.  He previously announced that Congressman Ed Royce had endorsed him.
Nelson is the leading Republican candidate to replace Norby.  The other Republican candidate is Anaheim Councilman Harry Sidhu.
Here is Nelson's email message:
Senator Mimi Walters Endorses Shawn Nelson for County Supervisor
FULLERTON, CA — Fullerton City Councilman Shawn Nelson today announced that Republican State Senator Mimi Walters has endorsed his candidacy for County Supervisor in the 4th District.
"With government at all levels facing tough budget decisions, the people of the 4th District will be well served by having a proven budget hawk and taxpayer advocate representing them on the Board of Supervisors," said Senator Walters.
Councilman Shawn Nelson is running in the 4th Supervisorial District, where incumbent Chris Norby is termed-out in 2010. The district includes Fullerton, Buena Park, La Habra, Placentia and part of Anaheim.
"I am proud to have the support of Senator Walters, a recognized champion for taxpayers and property owners," said Nelson, who is also supported by United States Representative Ed Royce.
Council Member Shawn Nelson was elected to the Fullerton City Council in November 2002 to fill the remaining two years of an unexpired term, and was reelected to a four-year term in November 2004. He served as Mayor in 2004-05 and 2006-07, and as Mayor Pro Tem in 2003-04. Active in the community, Council Member Nelson is a member of the Fullerton Elks Lodge, the Fullerton Chamber of Commerce, and the Orange County Bar Association. He is actively involved as a member of Zion Lutheran Church, is a sponsor and "Soccer Dad" for the Fullerton Rangers youth soccer club, and is head coach and a parent sponsor for Fullerton Pop Warner Football's Mighty Might Team. Council Member Nelson was named the "Local Elected Official for 2009" by the Orange County Republican Party.