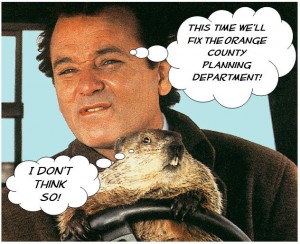 In 2002 newspaper headlines repeatedly blared that the County Planning Department had run out of money, comparing that situation to the famous 1994 County filing for bankruptcy. Seems that the Planning Department had run out of money and could not meet its bi-weekly payroll! An emergency loan from the Orange County Board of Supervisors morphed into a $9 million permanent bail out by the end of 2002. The Planning Director left, and a new one took the helm in summer of 2003. Things were supposedly fixed.
Or so it seemed until 2006 when a Register headline announced "County planning agency predicts deficit" (February 6, 2006). That story quoted County Supervisor Bill Campbell as being unhappy about the potential deficit and saying a full review can be expected. In March of that year a Register editorial advocated "outsourcing and privatization rather than a continuing government monopoly—" (March 13, 2006). Somehow the County got through this second Planning Department crisis in 2006. At least the publicity died down.
Now, in the summer of 2009, a scathing audit of the Planning Department ordered by the Board of Supervisors has made headlines. Findings of the audit are extremely negative, reflecting bad management and an apparent lack of adequate oversight by the County's CEO and the Supervisors themselves.
Supervisors Chairman Pat Bates, in a column in today's (August 11, 2009) Register headlined "Reining in bureaucratic excess" cites many identified flaws in the operation of the Planning Department and promises reform of the Planning Department as well as County government.
Let's see – 2002, 2006, 2009. Isn't that 3 strikes?  Just as I wrote this I learned that OC Weekly has published a story reporting that the latest Director has decided to retire. Probably a wise move, but what about the others charged with an oversight responsibility?