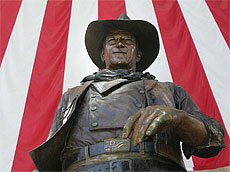 Two important developments at John Wayne Airport this week:
Kudos to Airport Director Alan Murphy and his staff for bringing in this business.  With the theft of El Toro from us, and the ongoing — let's really say perpetual — economic loss to the County that created, it's encouraging that someone's been able to sell something that will create some revenue from our only remaining commercial airport, and particularly since the County's not being overwhelmed by property tax revenue from all those homes that aren't being built around the Great Park.
With JWA's passenger caps finally increasing next year (and hopefully going away in 2015), and a new terminal planned, this is good news — not as good as having a job-creating, tax- and fee-generating, parking revenue-producing and economy-stimulating international passenger and cargo airport at the intersection of two major freeways and next to a Metrolink/Amtrak train station would have been, but it's better than nothing.