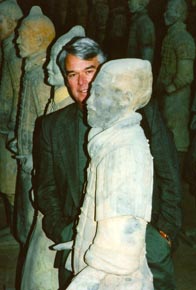 In January of this year, Bowers Museum was raided by "agents from the IRS, U.S. Immigration and Customs Enforcement and other agencies.  "According to a copy of the search warrant for the Bowers Museum, an undercover agent for the National Park Service began buying smuggled Thai antiquities from importer Robert Olson, of Cerritos, and donating them to the museum," according to the O.C. Register.
Was Dr. Peter Keller (pictured above), the President of the Bowers Museum, guilty ?  He was not indicted but he certainly WAS guilty of lax practices with regard to antiquities.
And an L.A. Times article released earlier this month indicated that the Bowers is cutting its budget by 10% by "by laying off employees and canceling or delaying exhibitions."  The Bowers currently gets over $2 million a year from the City of Santa Ana.  Now that the City of Santa Ana is struggling with a $40 million budget deficit, how will the Bowers make up that lost revenue?
With regard to the warrant served on the Bowers, one online source cited this information as proof that not only was Keller lax but he could have referred to numerous sources in order to try to fix his policies:
The museum has never required proof that artifacts it accepts have been obtained legally, Mr. Keller said.  Donors are required to sign a statement saying that they are the rightful owners of an artifact and that it is in the United States legally, he said, but they are not asked to provide documentation.
Mr. Keller said it was a "very difficult thing to prove" where an artifact has come from or how long it has been in the United States. "I don't know how you prove it," he said.
Perhaps he can find some guidance in the Association of Art Museum Directors' detailed 2004 guidelines on "acquisitions of archaeological materials and ancient art," which "complement and elaborate on AAMD's 2001 'Professional Practices in Art Museums.'" (AAMD's website does not list the Bowers' director as a member of that organization.)
Another online source stated that "The warrants suggest that officials at the Bowers and Pacific Asia museums were aware that donated objects were looted and overvalued."
"Two weeks ago, the Bowers let go three staffers whose jobs had covered fundraising and ramping up memberships. Among them was Inez Wolins, vice president of development and marketing, who had been hired in mid-2007 after directing art museums in Wichita, Kan., Gainesville, Fla., and Great Falls, Mont., and then serving as head of education and visitor services at L.A.'s Autry National Center," according to the L.A. Times.
"Besides the staff reductions, the Bowers will run "Passages," its current show of photography from Africa, until next Aug. 16 — an extension of four months. Another show, "Spirits and Headhunters," combining photographs of Papua New Guinea with artifacts from the museum's own collection, is being pushed back from next May until early 2010," again as per the L.A. Times.
What does Keller have to say for himself and his lax policies?
Here is an excerpt from a statement by Keller on the Bowers Museum website:
But is there life after the Warriors? That is a huge concern for all of us at the museum. It is going to be very difficult to match! But we're doing our best through our contacts and our partnerships to do just that. Look for a mix of smaller, but very exciting exhibits along with what some would call "block busters."
Note that Keller does not mention the cutbacks, the warrants, or the recent firings of Bowers staff.
You have to wonder, why is Keller still working at the Bowers Museum?
You can check out the Bowers for free on the first Sunday of the month thanks to Target.  Also, if you live in Santa Ana, you can go to the Bowers for free on the first Sunday and third Tuesday of each month.  For more information about tickets click here.  Currently adults pay a whopping $12 and kids over six pay $9 each.  That is a lot of money to see old exhibits.