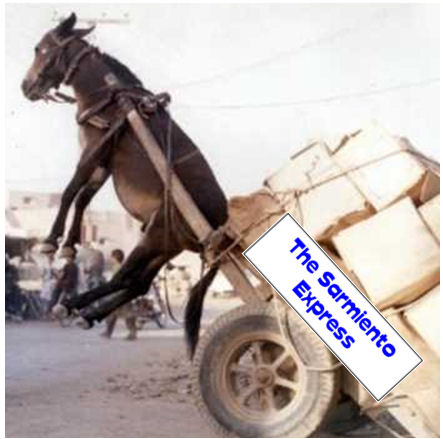 It looks like Santa Ana Mayor Miguel Pulido didn't need the Democratic Party of Orange County's (DPOC) endorsement after all – they are still putting out the red carpet for him. The DPOC sent out an email blast today announcing "Please join Assemblyman Jose Solorio and Santa Ana City Councilman, Vincent Sarmiento for the grand opening of the Santa Ana Leadership Campaign Office."
But Pulido and Sarmiento are joined at the hip in this election.  They are walking a flier with both of them on it.  So is Pulido part of this alleged "Leadership Campaign?"  And since when is abject failure referred to as "leadership?"
And why does Solorio need a campaign office?  Is he sweating the challenge posed by GOP candidate Cam Mangels?  Maybe he should be.  The State Legislature has utterly bungled our state budget this year.  And Mangels has a huge fundraiser coming up; click here to read his invitation.  The OC GOP sure didn't help its last candidate for the 69th Assembly District, Ryan Trabuco, in that fashion.  What a difference two years make.
This all looks highly suspect to me.  If voting for a Democrat is important to you, I suggest you vote for Jim Walker instead of Sarmiento.  And vote for Lisann Martinez instead of Claudia Alvarez.  And vote for Michele Martinez instead of Pulido.  These opponents are all progressive Democrats – and they ought to be the ones getting support from the DPOC, not the corporatist Pulido, Sarmiento and Alvarez.
As for me, I may not be a Democrat, but I am an independent and I am socially progressive – and I am trying to take out the last Republican on the Santa Ana City Council, Carlos Bustamante.  So far I have found many residents to be very receptive to that message.  Ironically my campaign Co-chairs are both Republicans – and my supporters hail from all the parties.  They don't agree on much, but they all agree that Bustamante needs to be retired from the City Council.