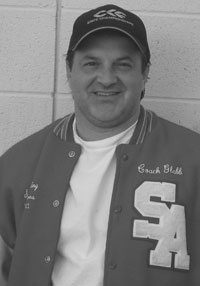 Finally some good news about Santa Ana – or rather two of the people who have left their mark in this downtrodden city.  One of them, Santa Ana High School Wrestling Coach Scott Glabb, was profiled in Reader's Digest in a series of columns about people who have "made their mark."
"Coming from a school of upper-middle class students, Glabb was unsure of how disciplined the wrestlers at Santa Ana would be — he soon found out that the commitment level he was used to from athletes was not the norm at Santa Ana High School. The first season, Glabb dealt with wrestlers not being eligible to compete because of grades, and students in gangs and on drugs. His team of 20 wrestlers had a losing season of 11 wins and 16 losses — once even getting beat by a score of 72 to zero." (Reader's Digest)
This story has a happy ending Glabb got involved with his students and became a role model for them.  "Since Scott started coaching in 1991, the Santa Ana High School wrestling team has had a record of 294 wins and 53 losses, 48 state qualifiers, and two high school national champion wrestlers. "
Great job Coach Glabb!  If you would like to learn more about the Santa Ana High School Wrestling Team please visit: Santa Ana Wrestling Team.
(Photo of Candice Price courtesy of the O.C. Register)
The O.C. Register profiled another winner from a local high school, 17 year old Candice Price, of Segerstrom High School.  Price befriended a little girl who died of cancer at the abe of 3.  Price then was inspired to start a club named after the little girl, "Karlie's Angels."  "Dozens of Segerstrom students have participated in the club since it started last year. They sent more than 100 handmade cards to the children's hospital for the holidays, and they're beginning to raise money for the next batch," according to the O.C. Register.
Price was recognized as the recipient of the first Santa Ana "Youth of the Year" award by the Santa Ana Youth Commission last month.  Kudos to Price for spreading hope and dedication amongst her peers.
It's nice to see good people recognized for good works – particularly when they both do their good works in Santa Ana.