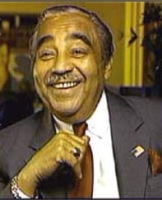 I think we might create a new Juice feature called "Congressional Outrage of the Week." Let me suggest starting with a newsletter report just received from CA Congressman John Campbell based on a story in the New York Post.
A sitting member of Congress promoting a building named after himself. In this first example of self aggrandizement I issue the award to N.Y. Congressman Charles Rangel who wants to build a monument in his honor to be called "the Charles B. Rangel Center for Public Service at City College."
In his Newsletter Congressman Campbell mentions that Rangel "pushed a $2 million earmark thorough the House as seed money" for this project.
To read the entire Post story go to this link.
What caught my attention is that we dealt with this very issue in the city of Mission Viejo where sitting city council members named facilities after themselves. How sweet. Is that why you engage in public service?
We remedied that issue in Mission Viejo by removing the names of two members from a active sports park and the community room at our library. Those individuals no longer serve on our city council. We took care of that. As such there is no need to "name names" at this time.
Juice readers:
How do you feel about this form of pork barrel spending?
What's your thoughts about sitting members of any government body having projects, buildings, freeways, bridges or parks named after them while still in office?
As this project has received huge sums from the private sector do you view this as a possible conflict of interest?