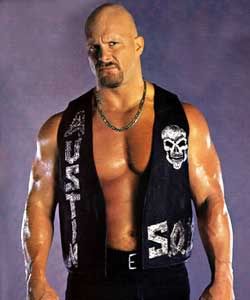 Well, it is hard to believe, but another one of our bloggers has been nominated as a Santa Ana City Commissioner tonight. This time it was Thomas Gordon's turn.
Gordon was appointed by Councilman Sal Tinajero to the new "Early Prevention and Intervention Commission." That is what the gang commission ended up being called. There must have been a sale on syllables!
That's not Thomas in the picture accompanying this post, but as I did not have a picture of him, the famous wrestler Steve Austin agreed to pose as his stunt double. Startling resemblance if you ask me!
In related news, Gordon is also going to be appointed as Ryan Gene William's alternate on the OC GOP Central Committee, later this month. (Go to the end of this post for a special guest column from Ryan on this very issue).
Gordon has been involved in the Santa Ana community for years. He ran last year for Mayor and he tells me he will be doing so again in two years. By now I think most Santa Ana residents have come to the realization that they should have voted for Thomas!
Gordon has singlehandedly assisted in the arrest of many taggers, and I am sure that he will bring focus and clarity of vision to his new commission. The gangbangers may not be afraid of Carlos Bustamante, but I am sure they will show Gordon the respect he is due.
Also, Orange Juice amiga Deborah Vasquez was also appointed tonight, to the Santa Ana Housing & Redevelopment Commission. That means I will be working with her and my co-blogger Luis Rodriguez on that same commission.
Good luck to both Thomas and Deborah!
While we are on the subject of Mr. Gordon, here is a special guest post from Ryan Gene Williams:
Guest Post by Ryan Gene Williams
As per the bylaws of the OC GOP Central Committee, of which I a member, I have the opportunity to appoint an alternate member. At long last I have found someone I can feel proud to name as my alternate.
Things are happening here in Santa Ana, especially for the GOP, and I needed someone who is going to help get things done for our party. We have an opportunity to start winning elections at the local level here in the city, and that is why I