We're in the period of madness, between the final election night update (FENU) and the completed county canvas (CCC), known as the time of County Canvas Updates (CCU), where what we knew was true (and reported on) the day after the election may turn out not to be true.
Sometimes this is just a matter of pride or bragging rights — for example, will Wendy Gabriella or Bill Brough have had the most votes in the primary for AD-73? —  and sometimes it's more substantive, such as the question of whether Kevin Haskins will exceed the 50% mark needed to eliminate a runoff with KC Jones for Superior Court seat 14.
| | | |
| --- | --- | --- |
| | Vote Count | Percentage |
| KEVIN HASKINS | 128,033 | 49.4% |
| KENNETH C. "KC" JONES | 86,477 | 33.4% |
| THOMAS E. MARTIN | 28,953 | 11.2% |
| FRED FASCENELLI | 15,498 | 6.0% |
As you can see, that race is close, with Haskins up from a 48.3% to 33.8% lead in the FENU — but I think that he won't clear 50%.  I'll explain why below.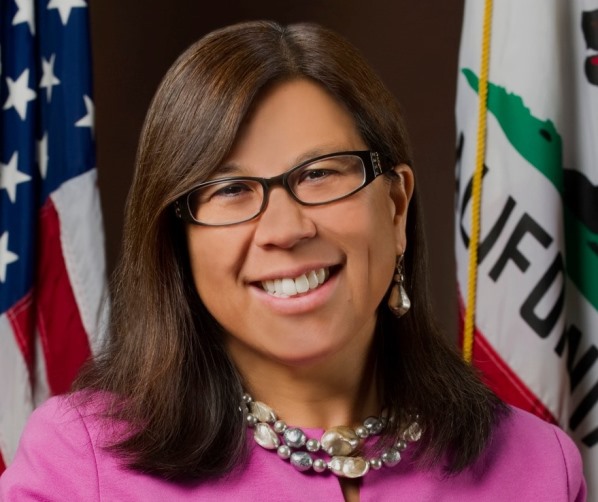 Statewide, the race for Controller is the cliffhanger.  Fresno Mayor Ashley Swearengin is already into the runoff (currently with under 25% of the vote) but Democrats Betty Yee (at left) and John Perez are only about 1000 votes apart for second place, with Republican David Evans another 5000 votes back.  Yet, despite my favoring Yee, I still think that Perez is the likely victor here — based on what I see on this page (and beyond it.)
Oh, and remember how Orange County had only 16.9% turnout?  The people who reported that to you didn't know how the reporting process works — and are pretty quiet now with turnout now at a (still pathetic) 22.8%, from which it will rise to around 23.5%.
How do the political geeks know these things?  Come learn now election results are reported — starting on election night.  The first thing to understand is that not only do ballots arrive at different times from different areas, but that different kinds of ballots are counted at different times.
Ballots come in roughly eight flavors these days.  These are:
Early voting, which we apparently didn't have in this election, so don't worry about it, although I don't know what category early ballots cast at the Registrar of Voters office fall into if not this one
Absentee ballots that were mailed in early enough not to become "late absentees" or "too-late"
Late absentees — absentee ballots that arrived through the mail on time, but too late to be part of the normal processing of ballots and so are held aside
Absentee ballots turned in at a polling station
Regular votes cast at the polls on voting machines by non-absentee voters
Votes cast at the polls by absentee voters who have traded in their absentees
Paper ballots, which can be requested by those who distrust voting machines
"Provisional ballots" cast by people who couldn't prove their eligibility to vote
Orange County has 1856 precincts — some of which are empty or near-empty.  You may have noticed that the first report on Election Night was huge — but showed that the number of precincts reporting was "0 of 1856."  Those were the absentee ballots.  In this case, they're about 75% of the total vote!
That is why you don't want to try to extrapolate from, say, 186 precincts, once the Election Day ballots start to come in, to say that the number of voters will be 10 times what it is when the almost 1860 precincts are completed — because the huge majority of votes from absentee ballots are already included in that figure.  Subtract out the number of absentees, which you saw with "0 precincts" in, and you have around 10% of the Election Day vote.
But that is not the final vote tally either.  Just as most of the votes are already counted when the initial counter of precincts read "0/1856", many votes still remain outstanding after the counter hits "1856/1856."  The Registrar of Voters office counts those in a set order of categories (with some overlap) as different teams start and complete different tasks.
If you check out this page at our Registrar of Voters site, you'll see links for the number of overall ballots left to count as well as links broken down into several categories: late arriving vote-by-mail ballots, vote-by-mail ballots surrendered at the polls, provisional ballots, and paper ballots.
Knowing where we are in the process of counting votes within these categories tells you how the next day's vote is likely to go.  Vote-by-mail ballots in Orange County tend to be more Republican and conservative — that's why you've seen the percentage for GOP-endorsed judicial candidate Kevin Haskins go up since Election Day.  Provisional ballots tend to be more Democratic and liberal — which is why I expect that Jones will do better today and will keep Haskins under 50%.  (These ballots take longer to process, because steps are taken to evaluate their legitimacy individually, so I don't know that 9500 or so remaining will be finished today.)  Paper ballots are — I don't know, cast by voters who are paranoid about voting machines?  That does not tell you much, because in Orange County paranoia stretches across parties.
Statewide, the question is which counties remain outstanding — and by how much.  The biggest fish, of course, is Los Angeles County, in which Perez has his political base.  As you can see from the LA County page, Perez has about a 4% lead over Yee within the county.  If that holds steady, he would be expected to make up a 1000-vote margin if 25,000 ballots remained outstanding as of the last report, which came Friday afternoon — and there were very likely many more left to count than that.
Can Yee make up that deficit elsewhere?  Looking back at the statewide page showing the progress of returns, we see that smaller counties including Amador, Butte, Calavares, Del Norte, Humboldt, Imperial, Lake, Madera, Mendocino, Merced, Modoc, Mono, Nevada, Placer, San Joaquin, Santa Cruz, Sierra, Sonoma, Sutter, Trinity, Tulare, Tuolumne, Yolo, and Yuba haven't yet reported anything beyond their FENU (election night returns.)  Together, they represent about 470,000 votes cast, compared to LA's 655,000-plus — but most of both of those numbers have already been counted.  Los Angeles is, furthermore, likely to have more provisional ballots.
The small counties — and of course even those past their FENU report are still only partway completed — are more likely to have gone for David Evans, who therefore also remains in the game.  Yee is likely to have done better in those Evans counties than will Perez, though.  You want to check it out county by county?  You're lucky you live in California, because our Secretary of State provides you with a detailed and interactive map!  Poke around, and you'll see that in those northern counties Yee is (spitballing it here) about 5% ahead of Perez — but that Evans crushes them both.  However, Evans is 8% back of Yee in Orange County.
Who's going to win?  I'm not doing the more complicated math, taking district characteristics and past performance into account, that would be required to make a very good guess — but I'd say that all three have similar chances.  (I suspect that it will be Perez only because of what I expect were lots of provisionals in Los Angeles.)  Soon, as counties graduate from "FENU" to "CCU" and from "CCU" to "CCC" — we'll have a better picture of how the late trends may go.  In the meantime — if you're hanging on every new release of voting data (statewide mid-morning and early evening as well as some on weekends, county promptly each weekday at 5:00), this should help you hang in there a little better.
Update, June 10, 8:30 p.m.
To my surprise — but presumably not to Registrar of Voters Neal Kelley's surprise — the ferocious team of ROV workers chewed through provisional ballots like they were breaded and fried at the county fair. Only 51 surrendered absentee ballots returned at the polls remain, and 683 of the more than 11,000 provisionals (which I thought would take much longer.) Then, it's everyone into the paper ballot pool, where all 1813 remain. My guess is that either that takes less than a day or that he sends a bunch of people home and lets to remainder take it slowly, because OC is way ahead of the curve here.
On the races we're watching:
– Perez now leads Yee for second place in the controller's race by 138 votes — that is, the margin by which he edged her out for third place in Glenn County. If LA's reporting system were as transparent and comprehensive as OC's, we'd probably know how to call that one. OC turnout is now at 23.6%, which Republican turnout at 29.9% and Democratic turnout at 22.3%. Peace and Freedom still takes the prize with 35.5%, though — what the heck is right with you guys?
– With her home base of OC all but done, Diane Harkey may still stand some chance of losing her 10,000 vote lead to Nader Shahatit — which is meaningless but would be nice.
– Janet Nguyen's margin over Jose Solorio in OC is now 21.8%; 18.8% overall if one includes LA.
– After a rough couple of days, Wendy Gabriella increases her lead over Bill Brough to 108 votes.
– As predicted, Kevin Haskins probably hit his high-water mark yesterday, falling back today to 49.2%.  If he got all of the remaining votes, he'd have 134,007 out of 269,823, or 49.6% — so unless he feels like having a recount and gets very lucky, he will face KC Jones in November.
– Only 2.2% now separate Webster Guillory and Claude Parrish.  Guillory finished badly — perhaps due to Jorge Lopez's complaint about him.  Parrish would be very smart to give Lopez a call — and the ability to keep his office clean.  Guillory may have to campaign in November after all!
– The fearsome army of Greg Diamond voters has now passed 75,000, while Tony Rackauckas's supporters for DA will be off almost 100,000 compared to 2010.  Yes, he smoked me — but I tarred up his lungs!
– Anaheim Measure D will end up passing by over 2000 votes, a little over 9.5%.
Update, June 11, 9:00 a.m.
Perez currently up by 1123 votes.  If it comes to a statewide recount for second place and a spot on the ticket in November, and the trailing candidate has to pay, my guess is that Perez can afford it and Yee cannot.  (Anyone recall whether we have an automatic state-financed recount within a certain margin?)
Update, June 11, 9:00 p.m.
Apparently, according to the excellent article Vern cites in a comment below, the state does not finance the initiation of runoffs.  The trailing candidate must.  Really interesting discussion there, if this is your cup o' tea!
Those CalNewsRoom guys are outdoing my more simplistic analysis — that LA is a vote-producing monster — so far.  Betty Yee has now taken a 2,834-vote lead on Perez, with most Los Angeles votes already in.  (Most of LA's remaining votes are provisionals, which often don't get counted.  Maybe more of them do this time, though!)  Yee is outpacing Perez in most of the small and northern counties — so the battle now is between their absentees and Los Angeles's provisionals.
BONUS UPDATE: Secretary of State Data is NOT CURRENT
I went to the Secretary of State's County Reporting Status page to see what was up with the FENU counties that haven't reported since June 3 or the wee hourse of June 4.  Why aren't they in CCU status?
It turns out that at least some of them should be!  And so far as I can tell, no one's been talking about it.
Take small Amador county, with 21,200 registered voters, which is the first listed as "FENU".  If you go by the SOS's site, which is easiest to use if you find the county on the Maps page and then click on it to get that county's results you get these figures for what it says is their latest report, on June 3, 10:25 p.m.:
Tammy D. Blair (Party Preference: DEM)  ====> 406   5.4%
John A. Pérez (Party Preference: DEM) ====> 1,130  14.9%
Betty T. Yee (Party Preference: DEM) ====> 1,259  16.6%
David Evans (Party Preference: REP) ====> 2,756  36.3%
Ashley Swearengin (Party Preference: REP) ====> 1,592  21.0%
Laura Wells (Party Preference: GRN) ====> 443  5.8%
But if you go to Amador County's OWN Election Results page, you see that their latest report listed is actually on June 9 at 11:10 a.m. — and my guess is that it is their final result, or CCC.
David Evans.  .  .  .  .  .  .  .  .  .     3,254   36.14%
Ashley Swearengin.  .  .  .  .  .  .  .     1,963   21.80%
Betty T. Yee  .  .  .  .  .  .  .  .  .     1,439   15.98%
Laura Wells.  .  .  .  .  .  .  .  .  .       549    6.10%
Tammy D. Blair.  .  .  .  .  .  .  .  .       453    5.03%
John A. Perez .  .  .  .  .  .  .  .  .     1,335   14.83%
WRITE-IN.  .  .  .  .  .  .  .  .  .  .        10     .11%
Do the math and you'll see that Yee has picked up 180 votes since Election Night — but Perez has picked up 205, a net gain for him in his race with Yee of 25.   Evans, meanwhile, still bears looking, because he picked up 498 votes since Election Night, meaning that he's narrowed his gap with Yee by 318 votes.  He's probably too far behind her to make a run — about 28,000 votes — but some of the FEMU counties, like Placer, San Joaquin, and Sonoma are pretty big — all with over 200,000 voters.  (Even Humbolt, Mendocino, and Imperial are fair-sized — and Imperial is a hotbed of Perez support!)
Hell, I can't resist doing Imperial County myself!
Here's what the Secretary of State's site says, with Imperial last reporting on June 4 at 1:14 a.m.:
Tammy D. Blair

(Party Preference: DEM)

793

7.1%

188,444

4.9%

John A. Pérez

(Party Preference: DEM)

4,606

41.2%

826,370

21.7%

Betty T. Yee

(Party Preference: DEM)

1,159

10.4%

829,204

21.8%

David Evans

(Party Preference: REP)

2,517

22.5%

801,335

21.0%

Ashley Swearengin

(Party Preference: REP)

1,526

13.6%

947,043

24.9%

Laura Wells

(Party Preference: GRN)

581

5.2%

214,583

5.6%
Now, here's what Imperial County itself says that it has calculated so far, in its "Unofficial Final Results" as of June 10 at 10:08 a.m.:
| | | |
| --- | --- | --- |
| DEM – BETTY T. YEE | 1,566 | 10.17% |
| GRN – LAURA WELLS | 782 | 5.08% |
| DEM – TAMMY D. BLAIR | 1,042 | 6.76% |
| DEM – JOHN A. PÉREZ | 6,337 | 41.14% |
| REP – DAVID EVANS | 3,393 | 22.03% |
| REP – ASHLEY SWEARENGIN | 2,222 | 14.42% |
| WRITE-IN | 63 | 0.41% |
| Total | 15,405 | 100.00% |
So, David Evans has added 876 votes since Election Night.  Betty Yee has added 407 new votes since Election Night.  And John Perez has added 1669 votes!  That's a relative gain of 1282 compared to Yee — 1307 if we throw in Amador — and that's almost half of his current deficit!  (Admittedly, Imperial would be by far his best of these counties.)  And if people are just relying on the SOS page, they aren't yet able to see it!
Hey — this could be big!  Imperial is in CCC status already, not FENU or CCU — and the SOS's site either hasn't been informed or hasn't been updated!  Anyone want to look at the other FENU counties and see how much their figures should be updated?  You may have a real story here!