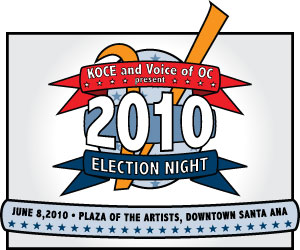 Tuesday, June 8th — After Polls Close
KOCE and Voice of OC will be hosting an election night gathering after the polls close on election night.
Place: The Plaza of Artists in downtown Santa Ana (just steps west of DPOC Headquarters on Main)
The Democratic Party of Orange County Headquarters is located at:
200 N. Main Street, M Level, Santa Ana, CA 92701
Email: info@ocdemocrats.org
Telephone: 714 835-5158
Fax: 714 835-3685
Melissa Fox's Election Night Party
Tomorrow, June 8, is Election Day, and I want to thank you for your support during my campaign for the California Assembly for the 70th Assembly District.
I am hosting a party at my home tomorrow evening to show my appreciation to my campaign team and the many people who have worked and contributed so we could get to this day, and I would very much like you to be there.
Please join us tomorrow on Election Night!
To RSVP or for more information, please contact Alisa at 619-201-3182 or alisa@votemelissafox.com.
Assemblyman Jose Solorio's Election Night Party
Reminds All to Visit our Team Solorio Election Night Party: Tonight @ Martinez Books & Art Gallery, 216 N. Broadway Ave., Santa Ana, 7 pm – ??? Free Festive Food & Drinks, Lakers Game Internet Highlights & Live Election Results. Spread the word. For more info, email Denise@JoseSolorio.com.
THE CALIFORNIA REPUBLICAN PARTY & THE REPUBLICAN PARTY OF ORANGE COUNTY cordially invite you to join us to CELEBRATE VICTORY 2010
Election Day
Tuesday, June 8, 2010, from 8:00 p.m. to Midnight
Anaheim Hilton
California Ballroom
777 Convention Way
Anaheim, CA 92802
Phone: 17144530900
ELECTION NIGHT VICTORY PARTY WITH STEVE POIZNER

Tuesday, June 8th, 2010, from 7:00 p.m. to 12:00 a.m.
Hilton Irvine/SNA
Crystal Ballroom
18800 MacArthur Boulevard
Irvine, CA 92612
To RSVP, please contact Brian Anders at 714-319-5333 or banders@stevepoizner.com
Deputy Chief Craig Hunter's Campaign Celebration in Yorba Linda
We will be watching election night results at Java Joe's in Yorba Linda. Please join us as we celebrate a great campaign with live music and great friends and supporters.
Java Joe's
Yorba Linda Blvd. and Yorba Ranch Road
The polls close at 8PM
Some of us will be there sooner, so stop by when you can.
Dr. Steven Choi announces an Election Night Party in Irvine
Dr. Steven Choi, the Irvine Councilman and leading Republican candidate for the 70th Assembly District, has announced an Election Night Party, on June 8, at 8:30 pm, at 4616 Barranca Parkway, in Irvine, at the Woodbridge Village Shopping Center.  Call 949-493-9542 to RSVP.
The Election Night Party will feature:
Election Night results
Refreshments
Free Parking
and an opportunity to celebrate with Dr. Choi, his friends, supporters and family
Also, if you can help between now and Tuesday, call 949-378-4580.  You can help by walking precincts, phone calling or sign waving.
Click here to contribute to Dr. Choi's campaign.
Shawn Nelson for Supervisor, Election Night Party
We will be At the Matador in downtown Fullerton, 111 N. Harbor Blvd., tonight starting at 7:30. Please feel free to stop by and join us.
Readers – Please let me know if you hear of any other Election Night parties.