.
.
.
.
"For what doth it profit a man if he lendeth his campaign $55,000
– more than all other candidates combined –
loseth his race,
AND loseth his soul?"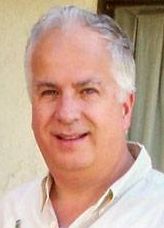 Fountain Valley insurance heir and Catholic Pharisee Mark McCurdy had a vision: He would win a seat on the Fountain Valley City Council by focusing single-mindedly on attacking the one Democrat on Council, the popular long-term incumbent and Mile-Square Park hero Gus Ayer, who was busy night and day working to help get Debbie Cook elected to Congress.
He would use religion against Gus!  Knowing Gus' respect of the Constitution and diversity, he would use the "Let's hang IN GOD WE TRUST in Council Chambers" wedge issue more nakedly than any OC politician this side of Rosie Avila.  And he would mobilize his Catholic parish around the issue, paying for inappropriate blurbs in the Holy Spirit bulletin and painting Gus as a godless degenerate for making such statements as "I don't feel City Council is the place to be discussing theology."
And he would spend whatever it took; having inherited his dad's insurance agency, he would eventually spend $15,000 more than all the other candidates combined. A spendthrift, he would spend more money on "fundraisers" than he would actually raise in funds, and sport a dozen McCurdy signs at each FV intersection.  He would hire Rovian sleazeballs Gilliard, Blanning and Wysocki to send out shameless mailers accusing Gus of everything from militant atheism to plotting to force FV residents into pod-cars. And how could McCurdy lose, with ringing endorsements from fellow slimebags Scott Baugh and Dana Rohrabacher?

"Not all who cry out Lord, Lord, will enter the Kindgom of Heaven."
Victory, if that's what it was, was Pyrrhic. Gus Ayer, spending all his time on Debbie Cook's campaign rather than his own re-election, was indeed defeated, but Fountain Valley voters had no interest in a prodigal, sanctimonious mudslinger, and instead wisely elected former Fire Marshall Steve Nagel.
It is said that McCurdy may give it another go in 2010, when fellow Holy Spirit parishioners (and IN GOD WE TRUST buffs) Guy Carozzo and John Collins will also be up for re-election, perhaps as a sort of Papist Slate. (Under the slogan: Fountain Valley – A Nice Place To Live, and to Re-Enact the Reformation in 2010.)  But for the next two years Mark McCurdy has been condemned, for the use of his religion for political gain, along with other sordidness and tomfoolery, to wander the Lake of Fire blindly, rending his garments and gnashing his teeth: