I saw that Greg was writing something about the oil spill, but he's not done, and I see that readers want to talk about it, so I'll just be putting up this little thread here… (of course this is Vern, duh)… here's a couple communiques from local politicians who are NOT from the Grand Oil Party (i.e. does anyone really want to hear Michelle Steel at a time like this?) Here's Supervisor Katrina Foley, Assemblywoman Cottie Petrie-Norris, and Congressman Mike Levin:
From Cottie:
Over the weekend, we saw our worst fears come to life with the catastrophic oil spill off our coastline. I live in Laguna Beach and I am personally devastated by this news. And as your representative, I'm working to ensure that all of our resources are being used to fight this. I just joined the U.S. Coast Guard for an aerial tour of the oil spill site and want to share as much information with you as possible.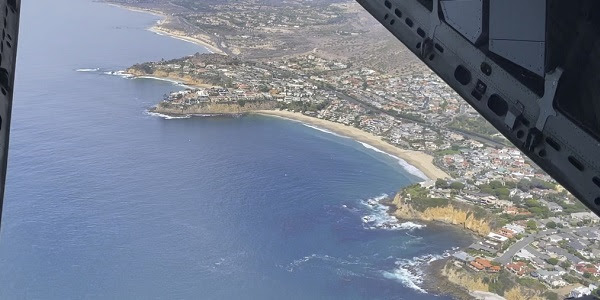 Here's what we know so far:
On Saturday morning, the U.S. Coast Guard, California state officials, Orange County Harbor Patrol and Huntington Beach Marine Safety Division responded to reports of an oil spill approximately 13 square miles in size, located about three miles from the Newport Beach coast.
A unified command has been established – bringing together federal, state, county and city agencies. We are working around the clock to protect our marine life and mitigate ecological disaster. Our top priority is the health and safety of our community. As a result, at this time, the County of Orange and the Cities of Laguna Beach, Huntington Beach and Newport Beach have closed their beaches.
This is devastating for our local economy, particularly our small businesses. Anyone who has experienced revenue loss from their business or damage to their property from this disaster is encouraged to call (866) 985-8366, which is a hotline set up by Amplify and their partners to help impacted parties file claims and to also give out general information.
How you can help:
Many of you have reached out asking about how you can help. For your safety and the safety of the animals, the public is asked to not attempt to capture oiled animals. The California Department of Fish & Wildlife has set up a hotline for individuals to call if anyone sees wildlife impacted from the oil. In such instances, you can call (877) 823-6926.
In addition, at some point, we will need volunteers to help with beach clean-up efforts, and to help coordinate that effort, the City of Huntington Beach has partnered with the Surfrider Foundation. Anyone interested in helping on that front should visit www.cleanups.surfrider.org.
As this crisis continues to unfold, I am committed to providing consistent and reliable information for the community. If you would like to receive updates from my team, please sign up here.
Additionally, my office is updating on Facebook and Twitter daily.
For additional updates from our local, county and state partners, visit:
If you have questions or need more information, do not hesitate to contact my office https://a74.asmdc.org/contact or by phone: (949) 251-0074.
Yours faithfully, Assemblywoman Cottie Petrie-Norris.
On second thought, that was pretty thorough – I think Cottie's letter can stand on its own for now — Vern
Greg's Update, With Voice of OC Article Index!
As Vern mentioned, I started a post as first reports of the oil spill came in on Oct. 3, but the Voice of OC came in with a better story before I finished, so it was back to the drawing board. I had work commitments, Oct. 4, so I didn't get around to updating the draft until later that evening … and I saw that the Voice of OC had already addressed each of the angles I had in mind: (Air Quality, Who Would Investigate, and Wild;ife Impacts. Eventually, I decided just to leave them to do what they do better than we can. So here's a list of VOC stories on the oil spill through 5 p.m. on Oct. 8, which I'll try to remember to update from time to time:
We salute the diligence and hard work and expertise of our younger and larger cousin! (I do have another hot take or two that they haven't covered — no, I am not saying that just to drive them crazy! — that that can wait while it cools.) And this is another of our occasional reminders that the VOC does want and need your financial support beyond just your readership. And I'll be riffing on their stories from time to time in the days and weeks ahead.