.
.
.
Vern here:  I just had to share this, off of Facebook, with the permission of the author, Matthew Mariscal, a good friend of the blog and fighter for justice in Anaheim:
I remember so often, my dad would tell me, "Son, don't be like me." He never wanted me to join a gang like him, get tattoos like him or do drugs like him. He always asked me to not be like him.
As a kid, I always told myself I wouldn't.
As I got older, not being in a gang, not doing drugs nor having tattoos, I felt like I kept my word. I'm nothing like my dad.
One day recently I was sitting thinking about this, thinking about how my pops never wanted me to be like him.
I realized that the drugs, tattoos and gang life weren't him. Sure, they're choices he made. But they're weren't him.
My dad was the kindest man I've ever known. I cannot recall one single time he ever raised his voice at me to discipline me. It goes without saying, he never spanked me either. I cannot recall a time I ever saw him and he didn't tell me how much he loved me or how proud of me he was. I cannot recall a time he ever forgot to give me a kiss on my forehead either. I can't recall a time where he didn't try to share some kind of knowledge with me that he had learned. I can't recall a time where he forgot to tell me to pray and love God.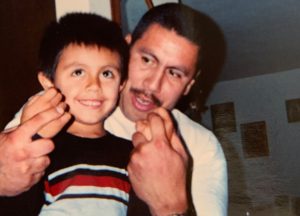 Looking back at it today, I pray to God I'm half the man he was. For a long time, I tried to keep my word to him and never become like him. He never gave himself the credit. I had to reflect on who he was to realize I want to be just like him. I want to be the man he was and have the heart he did. He is the greatest man I've ever known.
Pops, I want to be just like you.
Happy Father' Day.
RIP my KING.