.
.
.
Soon after the Register's editorial board printed a sensible criticism of his Angels Stadium "deal" (Angels Deal Leaves Too Many Questions, Jan. 2), and soon after I published my own takedown here (What Every Anaheim Voter Needs to Know About the Angels Swindle), a stung Anaheim Mayor Harry Sidhu (or his handlers), probably also aware of the planned Recall, penned a defensive response entitled "Some Much Needed Clarity on the Angels Stadium Deal."  Clarity is far from what it provided.
One thing you'll notice in the mayor's piece is the repeating of the word "baseball" like a talisman, as though his legion of critics were just a bunch of baseball haters:  "[We] can be proud of the proposal for baseball in our city."  "…Those who still see narrow gain in opposing any baseball agreement."  "There wasn't a single month last year that the council did not hear about baseball."  And so on.
Let's be clear with Harry:  NONE of us are hating on BASEBALL.  What a growing majority of Anaheim residents are outraged over, and one of the biggest reasons for his pending Recall, is his giving up our most valuable public property to a political patron/crony for a fraction of its worth.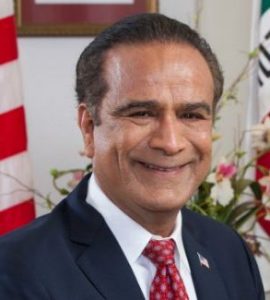 Harry continues, like all the deal's apologists, to dishonestly talk about Anaheim getting the (already artificially lowered) price of $325 million PLUS various unspecified community benefits.  I think most of us have learned by now that these "benefits" (affordable housing, open space) are going to be SUBTRACTED from that $325 million – Arte Moreno insists on that, and he's the boss.  
Also considered an expensive "community benefit" to be subtracted from the property's price is any "project labor agreement" guaranteeing that Arte's construction work will be done by local, union workers.  Did any of the union spokespeople packing the chamber on Dec. 20 mention that?  Of course they did not.  With everything that's likely to be subtracted from the $325 million price, who knows what will be left?  Indeed, the floor is the limit.
Speaking of the people who spoke Dec 20, the Mayor claims that "The majority of them supported the agreement."  Actually, as anyone who watched the four hours of speakers can vouch, the only ones who spoke in favor were those paid to speak and/or standing to profit from the deal – nearly every speaker with no personal financial interest was strongly AGAINST it.
Harry bristles at the Register editors' calling the deal "unnecessarily rushed" – BUT OF COURSE IT WAS.  The public wasn't privy to the details till Dec. 20, and the Council had given themselves a deadline of Jan. 1 to vote on it!   When Harry refers to the leisurely months of discussion ahead in 2020, that'll be all about figuring out how much LESS than the $325 million Anaheim will ever be seeing… in the spring when the public's attention to this has wearied.  
The real reason for that self-imposed Jan. 1 deadline seems to have been a state law that went into effect on that date, the Surplus Land Act, which might have forced the conspirators to public bidding and greater transparency.  It's debatable whether that Act would have impacted the Angels deal, but Arte reportedly thought it MIGHT, and HE's the boss, so Jan. 1 was the deadline.
And how long will swindle apologists keep citing the Orwellian-named "OC Taxpayers Association" as a character witness?  Once again let me remind you, that OC TAX has gone to bat in defense of taxpayer ripoffs from Hotel and Disney subsidies, the unnecessary subsidized billion-dollar Poseidon desal plant, and the diversion of $1.5 billion in Measure M taxpayer funds to impose toll lanes on the 405.
We could keep going, refuting other falsehoods in the Mayor's piece, but it's tedious.  After all, this Angels swindle is only ONE of the reasons (albeit a BIG one) that the citizens of this fine town are recalling their mayor (and replacing as much of his loyal Council Majority as we can.)  Here is the official, 200-word list of charges:
Mayor Sidhu has put the interests of his campaign contributors over the interests of the Anaheim residents in the following ways:
Lowered the value of the taxpayer-owned Angels Stadium property by hundreds of millions of dollars, and refused to insist on the word "Anaheim" in the team name, or include community benefits, a project labor agreement, or a Performing Arts Center in the agreement.

Reversed the lawsuit negotiations of the previous council and granted a new, unlimited right for campaign contributors to operate hundreds of Short Term Rental businesses in our residential neighborhoods.

Supported predatory practices to push seniors from the Mobile Homes they own. 

Supported predatory practices to push residents from the homes they rent.

Pushed high-density development onto an impacted neighborhood, while restricting the rights of the affected residents to speak in a Public Hearing.

Granted public funds to campaign supporters for no-bid, "make-work" contracts without accountability.

Blocked discussion of campaign finance reform in a public meeting.

Refused to meet with Latino Council colleagues, even once, since taking office, while creating policies to prevent minority Council members from putting items on future agendas.
Anaheim cannot afford another two years of this wasteful and corrupt Mayor.
The recall was begun by the senior residents of the Rancho La Paz mobile home park, in reaction to Sidhu's refusing to help them or even listen to them as his friend and contributor John Saunders bought the park and began to force them out with exorbitant rent hikes.  But enthusiasm for the recall has spread throughout the city.  We need YOU now!
We now have a Facebook page (sign on, like and follow) and an e-mail: RecallSidhu2020@gmail.com.  The county registrar should approve our petition in early February, after which we'll have 160 days (till mid-July) to get over 10,000 signatures to get the Recall on the November ballot.
And don't forget – not much will change unless we also replace two of Sidhu's loyal allies in November:  District 4's termed-out Lucille Kring with someone we can trust;  and District 5's up-for-reelection Stephen Faessel.  Anaheim deserves an honest Council and Mayor that works for US, not for wealthy insider Special Interests!