.
.
.
Preface: Here is the list of DAIR endorsement pages for each of the six covered OC Congressional Districts, shares from Facebook of which SHOULD propagate the DAIR Endorsement graphic for that district.  (It can, of course, also be saved and added manually.)  Click on your district below — or click on them all! — for the accompanying story.
CA-39 ………. CA-45 ………. CA-46 ………. CA-47 ………. CA-48 ………. CA-49 
You can find the graphics for each of them below.
(Cross-posted from The Brean)
1. Meet DAIR: Democrats and Allied Independents for Reform
2. Meet DAIR's Endorsements (by Congressional District)
You can save these graphics to your own device to make it easier for you to upload and share them.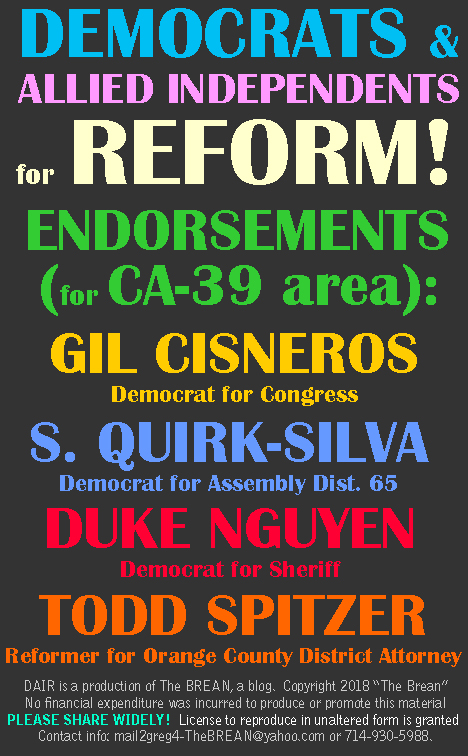 3. Read DAIR's Background Story
The Democratic Party of Orange County is, I'm told, likely to pass the resolution I wrote presenting Democratic Principles on Criminal Justice Administration — if at all, it will be right around Thanksgiving.  In my experience, Democratic Party organizations can move at the speed of lightning when they wish to and at the speed of chilled molasses when they don't — and we're looking at molasses speed here.
The clear concern is that, while people join our party's endorsed candidate for Sheriff Duke Nguyen in (so they claim) supporting the principles that I've espoused, there's a bit of a problem.  One of the candidates for District Attorney has also accepted many of those reform principles, adopted them into his platform, and received the endorsement of our endorsed primary candidate Brett Murdock after having done so.  That's a problem because we can't endorse Republicans — something that I've never ASKED the DPOC to do.  The fear is that acknowledging that one candidate for District Attorney has endorsed some of our principles while the other one is busy tearing the Fourth through Eighth Amendments to the Constitution into small bits and stuffing them down the throats of the accused and convicted, and is now campaigning on villainizing the ACLU for trying to stop him from committing these crimes, would be inappropriate for the local party, especially since the candidate that Democrats could more proudly support is hated with the fire of a thousand expletives by party power Florice Hoffman.
I've had enough of this craziness.  If the party won't stand up for what Democrats believe in and make its position clear to voters before an election — something that is critical to Nguyen's performance in the Sheriff's race, as well as generally smart to do because now is when voters are paying the most attention to our message — because if they don't like Todd Spitzer (and perhaps  do like that the miserably corrupt incumbent Tony Rackauckas has been willing to protect at least SOME prominent Democrats, along with MANY prominent Republicans, from the consequences of their actions), then I will, as a Democrat, do what I can provide the leadership that they won't.
I don't think that it's reasonable for me to expect to be able to do so as a member of the DPOC's Executive Committee — so I've just today resigned my position on that body.  I am not giving up my position on the DPOC's larger (but less powerful in fact, if not by law) Central Committee — and if they want to kick me out of that body (while they kept Dan Chmielewski) over my supporting civil liberties, civil rights, honesty, reform, and the ACLU, BEFORE A HUGE ELECTION rather than AFTERWARDS … well, that's a fight that I expect to relish.
I've set up an organization called "Democrats and Allied Independents for Reform."  It's nothing formal — technically, it would be an informal association. meaning that all share responsibility for each others' actions, so I'm reluctant to throw open membership to just anyone.  Its purpose will be to speak the truth to Democrats when the local Party is too pusillanimous to do so — starting now.
Its purpose will be to fill the vacuum left by DPOC leadership and put forth endorsements of good Democrats and non-Democrats running against other non-Democrats — so no endorsing Autumn Browne over Tom Daly, despite that I know which one I'd vote for if I were in that district — which the party cannot do and (despite my recollection of Frank Barbaro pushing us to individually support his nephew Travis Allen over Troy Edgar back in the day.)  That proscription apparently now means that we won't do even slightly and implicitly, the way for example one might have preferred John Huntsman over Donald Trump at some point and noted that the former was more consonant with Democratic values, without technically endorsing, unless I suppose the real leaders of the party decide to make an exception.
Well, SOMEONE is going to have to tell Democrats which DA candidate is trying to end practices that violate the sanctity of attorney-client communications, and lead to the conviction of innocents using likely perjurious testimony from well-compensated "snitches"– and if it won't be any other Democrat in OC then it will be me.  If anyone from DPOC tries to balance me out by supporting Rackauckas, that would be absolutely delicious and I honestly hope that it happens, so that people acting shamefully in private can wear their shame more publicly.  I presume that they will be standing in the dock with me, if push comes to shove.
I've broken the county down by OC's six congressional districts (leaving out CA-38 — sorry, La Palma!), presenting two (or in one case three) endorsements in other races in that district and then in all cases ending up with endorsements in the countywide races of Nguyen and Spitzer.  (There are plenty of other races where I'd like to endorse, but I don't have space.)  This is intended for an audience of Democrats and Independents (No- and Third-Party Preference); Republicans can figure out what they want to do on their own.  The graphics are copyrighted but licensed for reproduction and retransmittal by anyone else who wants to do it.  If anyone who spends money on anything — which I am NOT doing, to avoid the need for an FPPC number and filing requirements, given that Facebook is free — they should obviously be sure to report it.  I'm not going to be responsible for what you individuals with this published material on their own.
I'll have six stories published here and on The Brean — one per congressional district — each of which should propagate on Facebook with the appropriate graphic for each district.  Republicans, you're probably not going to want to share then, because I'm endorsing four out of the six Democratic Congressional candidates here — you can guess which two I'm leaving out.  If you want to share something, though you'll probably find the CA-46 one — which besides Nguyen and Spitzer supports Sal Tinajero for Mayor of Santa Ana and Dr. Jose Moreno for Anaheim City Council — acceptable to share.  (This is a good time to note that NO campaign — including Nguyen's and Spitzer's — knows that I'm doing this, and (as an obvious consequence) none has given permission.  (Even though this involves no expenditure other than my talents and volunteer time, I'm treating it in that respect as if did.)  It's even possible that some candidates endorsed — SQS, maybe? — will wish that they weren't; if so they can contact me and I'll see what I can change.  (But frankly, when you run for office you can't stop people from endorsing you.)
Trying and failing to get Democrats to take a stand here — hell, I'd have been fine with passing this AND a resolution criticizing steps that Spitzer has taken on homelessness, even though Rackauckas is no better on that issue — has been especially bitter.  But if the DPOC is going to leave a leadership vacuum for the county's Democrats in these two critical races, then then have to recall that nature abhors a vacuum and something is bound to rush in.  Happy to be of service.
The six individual stories that can be shared — which are being backdated so that OJB readers don't have to stare at so many similar copies of the graphic for the next four days, will be listed below once they are posted.
CA-39: North Orange County (plus Chino Hills and part of LA)
CA-45: North portion of the eastern hills and canyons
CA-46 Central OC (Santa Ana and Anaheim — this one is safe for Republicans to share!)
CA-47: Northern OC Coastal
CA-48: Central OC Coastal
CA-49: Southern OC Coastal
DAIR: to Reform Orange County
because we should ALL Dare to Reform Orange County!