.
.
.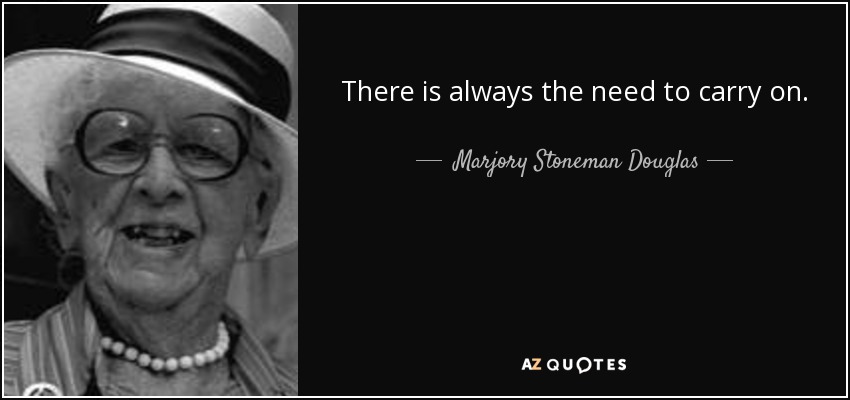 I have a sort of ritual when it comes to domestic terrorist attacks.  I think that it began in 1995, when Timothy McVeigh's blew up the Alfred P. Murrah Federal Building in Oklahoma City (thus saving Bill Clinton's presidency the day after he unconvincingly asserted that "The President is relevant" in the wake of the 1994 Gingrich Revolution.)  When they are named after places, I look up the place, and when they are named after people, I look up the person, in hopes of honoring the good that outlasts the bad.
With Mary Stoneman Douglas, who Wikipedia informs me was born in 1890 and died at age 108 — after an amazing life that included bringing public attention to the vital role of the Everglades in ecology, commerce, science, and spirit — I feel that I've struck gold in the search for good.
Here are some of the quotes from this Lady of the Everglades, whose eponymous high school was the site of this past week's tragedy, taken from the site AZ Quotes:
∴ There must be progress, certainly. But we must ask ourselves what kind of progress we want, and what price we want to pay for it. If, in the name of progress, we want to destroy everything beautiful in our world, and contaminate the air we breathe, and the water we drink, then we are in trouble.

∴ The Everglades is a test. If we pass it, we may get to keep the planet.

∴ The miracle of light pours over the green and brown expanse of saw grass and of water, shining and slowly moving, the grass and water that is the meaning and the central fact of the Everglades. It is a river of grass.

∴ All we need, really, is a change from a near frigid to a tropical attitude of mind.

∴ There are no other Everglades in the world. They are, they have always been, one of the unique regions of the earth; remote, never wholly known. Nothing anywhere else is like them.

∴ The wealth of south Florida, but even more important, the meaning and significance of south Florida lies in the black muck of the Everglades and the inevitable development of this country to be the great tropic agricultural center of the world.

∴ Life should be lived so vividly and so intensely that thoughts of another life, or of a longer life, are not necessary.

∴ You can't conserve what you haven't got.

∴ Since 1972, I've been going around making speeches on the Everglades. No matter how poor my eyes are, I can still talk. Ill talk about the Everglades at the drop of a hat. Whoever wants me to talk, Ill come over and tell them about the necessity of preserving the Everglades

∴ It's a little bit late in the day for men to object that women are getting outside their proper sphere.

∴ There is nothing inherently wrong with a brain in your nineties. If you keep it fed and interested, you'll find it lasts you very well.

∴ It is a woman's business to be interested in the environment. It's an extended form of housekeeping.

∴ I take advantage of every thing I can – age, hair, disability – because my cause is just.

∴ Child welfare ought really to cover all sorts of topics, such as better water and sanitation and good roads, and clean streets and public parks and playgrounds.

∴ I'm just a tough old woman.
How wonderful it is that the good people of south Florida chose to honor Marjory Stoneman Douglas by naming a high school after her and that so many there acted heroically in a moment of crisis.  That one of its failed students turned out to be swine does not detract from the value of the pearls that she cast.
This is your Weekend Open Thread.  Do what you do.