.
.
.
This amazing story was printed yesterday by the Fullerton Observer, and reprinted with permission of the author, Fullerton artist Jesse La Tour.
Two former Fullerton police officers who were fired over the beating/death of local homeless man Kelly Thomas have sued the city of Fullerton to get their jobs back, plus retroactive lost pay.
The officers are Jay Cicinelli and Joseph Wolfe, both of whom were charged by the Orange County District Attorney with excessive force and involuntary manslaughter in 2012 over the much-publicized beating and death of Kelly Thomas. Both officers were fired over the incident.
Cicinelli, along with officer Manuel Ramos, went to trial in 2014. Both were acquitted of all charges, including excessive force, prompting one of the largest protests in Fullerton history.
For most Fullertonians, this was the end of the tragic saga of Kelly Thomas.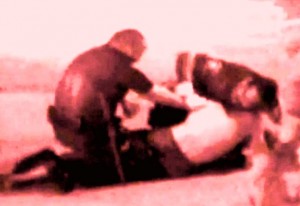 But for Cicinelli and Wolfe (whose charges were dropped), the acquittal provided grounds for suing the city. If, according to the jury, they had done nothing wrong, by that logic, they should not have been fired.
In 2015, unbeknownst to most Fullerton residents, in light of the verdict, Cicinelli appealed his firing and there was an "evidentiary hearing" before Hearing Officer Michael Prihar, who has decided in favor of several California police officers fired due to excessive force or other misconduct.
Hearing Officer Prihar decided in October 2016 that Cicinelli's "termina- tion was unreasonable" and he recommended that Cicinelli "be reinstated to his former position with full back-pay and benefits."
According to Prihar, Cicinelli's conduct "was not unreasonable and therefore did not violate Department policy." This conduct included kneeing Thomas in the head twice, tasing him, and smashing his face several times with the taser.
In 2016, the city of Fullerton appealed the Prihar decision, and in February 2017 denied Cicinelli's appeal, rejecting Prihar's findings.
In June of 2017, Cicinelli sued the city to get his job back and receive retroactive pay. Cicinelli's next hearing is scheduled for May 31st, 2018.
Officer Joseph Wolfe is also suing the city to get his job back and for retroactive pay.
His case is distinct from Cicinelli's in that Orange County DA Tony Rackaukas decided to drop the charges against him after Cicinelli and Manuel Ramos were acquitted.
Wolfe's case is also unique from Cicinelli's in that his lawsuit also includes former Fullerton Police Chief Dan Hughes and former Fullerton City Manager Joe Felz.
Like Cicinelli, Wolfe contends that he was unfairly terminated. Unlike Cicinelli, and perhaps hurting his case, is the fact that Wolfe did not cooperate with the independent review of the Kelly Thomas death, back in 2012. Wolfe's hearing is scheduled for June 8th, 2018.
Thus, it is possible that the taxpayers of Fullerton will have to pay money to re-hire two police officers directly involved with the death of an unarmed homeless man, Kelly Thomas.
Kelly Thomas was brutally beaten by six members of the Fullerton Police Department on July 5, 2011. He was in a coma for five days and died five days later.
Medical records show that bones in his face were broken and he choked on his own blood. The coroner concluded that compression of the thorax made it impossible for Thomas to breathe normally and deprived his brain of oxygen.