.
.
.
Supervisor Spitzer had a cow – you would have too – when he heard, at last month's TCA (Transportation Corridor Authority) meeting, about the high-handed, authoritarian, anti-democratic tactics his agency had used to stifle public input at June 5's so-called "PUBLIC FORUM" on the 241 toll road extension, at Saddleback College.
Spitzer, whom you can hear reading the riot act to TCA CEO Mike Kraman starting at 3:43, focused on only TWO of the agency's abuses that he'd just heard about from activist Michelle Schumacher:  security's seizing of attendees' papers and notes at the entrance, and their forcing attendees to sign a waiver in fine print allowing TCA to record their comments and then edit, "modify or manipulate them, in whole or in part, as we deem appropriate" for the agency's PR purposes:
This charade of a "public forum" also featured the following antidemocratic abuses by TCA (actually by the vile PR firm Venture Strategies, hired at $1.8 million of public money by TCA staff to sell their toll road extension…)
Sending out invitations to 25,000 households in San Clemente alone, then insisting on a room at Saddleback that would hold only a little over 500, even though Saddleback police had offered the use of a gym that would have held many more of the TWO THOUSAND toll road opponents who showed up.
Escorting in 250 or so toll road SUPPORTERS ahead of time so that the room was already half full with them (sound familiar, Anaheimers?)
Making those toll road opponents who were lucky enough to get in submit to humiliating searches – searches no toll road supporters had to endure.  (And, naturally, turning away anyone who hadn't managed to RSVP in advance.)
Despite what the lying CEO Mike Kraman said above, all opponents were searched as a matter of policy, AND had all their written speeches and questions seized and destroyed (on the pretext that they could be used as tiny "signs".)
Forcibly removing opponents' articles of clothing and accessories.  (I assume those would have been clothing and accessories with anti-toll road slogans on them, the better to later present this forum as chock-full of boosters!)
And yeah, that outrageous, unheard-of, fine-print waiver allowing TCA to alter your speech for their own purposes, any way they saw fit – a touch that made many would-be speakers throw up their hands in disgust and leave.
Still, it was a little odd hearing Todd Spitzer decry these abuses.  Maybe he did have no idea of the lengths his agency, their hired CEO, and staff's hired PR firm would go to to stifle dissent, but still – Todd, along with EVERY OTHER MEMBER OF THE 16-MEMBER BOARD except for the San Clemente rep, has been a dependable vote for pushing the toll road through, every time.  
I guess he just wants it rammed down our throats with more finesse.
But I'm getting way ahead of myself…
What the hell is this TCA anyway?
You might be surprised to learn – I was! – that there are two "Transportation Corridor Agencies" in the world, and both of them are in Orange County – aren't we special!? And really they're almost just one – they share almost all the same members.  But when working at losing money on the 73 they call themselves the "San Joaquin TCA", whereas when they're working at screwing over public and environment with the 241 (known in its southern stretch as the Foothill Toll Road and on its northern stretch as the Eastern Toll Road), they call themselves the *yawn* "Foothill/Eastern TCA" or "F/ETCA."  It'll be the latter specifically that we'll be excoriating today.
In trenchant Wikipese, the TCA's are…
"…two joint powers authorities formed by the California legislature in 1986 to plan, finance, construct, and operate Orange County's toll roads…  The toll roads maintained by TCA are financed with tax-exempt bonds on a stand-alone basis — taxpayers are not responsible for repaying any debt if toll revenues fall short… Some California lawmakers oppose these agencies, arguing that new toll roads will just facilitate and perpetuate sprawl."
Populated by three OC Supervisors (currently Spitzer, Nelson and Bartlett) and representatives from 13 OC cities whom we'll meet later and say "hey I know that guy," the permanently indebted agency is tasked with a Sisyphean mission it seems to institutionally believe in – keep building/extending toll roads until they pay for themselves.  Never mind the devastating 2013 Pacific Research Institute study showing this goal as illusive as the alchemist's dream of old, as less and less motorists opt to part with their hard-earned cash while the agency's bond indebtedness stretches on to a horizon of Forever.
Nah, who are we kidding, they probably don't believe in that alchemist's dream at all.  You remember two paragraphs up, "new toll roads will facilitate and perpetuate sprawl?" – to some minds, to the minds of the men who run Orange County, that is a GOOD thing!  Years ago I wrote while fighting another boondoggle, that the dream of south OC's ravenous developers is (paraphrasing Che Guevara) to "create two, three, many Rancho Santa Margaritas!"  And what does it turn out has been sprouting up since then?   Why, something called, with startling imagination, "Rancho Mission Viejo!"  (Also over-burdening the Capistrano Unified School District which is already 8555 students over capacity and has no new school.)
Rancho Mission Viejo, situated at such a desolate and lonely distance from freeway succor!  (below) If only the 241 could be extended, just think how poor Rancho Mission Viejans would love to spend good cash to zoom up to Yorba Linda, or down to La Jolla!  (NOT.)
Wait – didn't we kill this 241 extension 9 years ago?
You know, that's a really good question, and I will try to answer without resorting to any Zombie Clichés.
Images of the successful fight against the last proposed 241 extension through sensitive habitat hooking up with the 5 down near San Onofre evoke a simpler more innocent time.  Trestles!  The California Coastal Gnatcatcher!  Surfers getting political!  The local Democratic Party divided bitterly between labor and environmentalists!  But finally after a lengthy lawsuit the environment won.  The toll road was not to be extended through the sensitive inland-from-San Clemente land, and environmental fighters like Surfrider agreed not to oppose any options that didn't extend that far south.
But TCA, driven by a hunger for toll-road extension that passeth all understanding, simply went back to the drawing board.  And NOW what they're bent on achieving by any means necessary is "Option 14" – heading down from the 241-stump you see above to the red star I drew on San Clemente's Avenida Pico.
A lame-ass idea to begin with – the toll road would end up feeding right into a bottleneck. But forget about that – Option 14 would also do the following:
This new option will still do exactly the same damage to sensitive habitat and endangered plants and species as the last rejected plan, but now you can go ahead and add HUMANS and HISTORIC CITIES!  Not to worry about those plants and animals, says TCA.  They are SPENDING LARGE SUMS OF MONEY trying to get endangered birds, frogs, plants and fish de-listed as endangered.  The number one cause of death for mountain lions is being hit by motor vehicles, especially on the existing 241 where 15 cougars have been killed.  The backside of San Clemente consists of rolling hillsides where mountain lions, bobcats and deer roam – well they will just have to learn to navigate traffic better now!
The route will pass through TWO WATERSHEDS and a LANDSLIDE AREA.
It'll be the first time EVER that a toll road will be built through a historic city.
An estimated 538 houses are in danger of being seized by eminent domain, or could be doomed to spend eternity under a "flyover."
With the proximity of a new toll road, property values will dip 30% overnight.  Already top real estate agents are losing sales.  Many of these homes represent the lifetime investment for retired seniors.  All in the name of "progress," if you ask TCA.
I heard one of you, a couple minutes ago, snickering, "Vern is blaming this on developers including Rancho Mission Viejo – obviously he doesn't know that the RMV developers oppose the toll lane extension – he better find some other scapegoat!"  Yes, smartass, I DID read that Register article.   The RMV developers speak out both sides of their mouth.  They said what they knew the public and especially their prospective residents want to hear – but meanwhile they gave appear ready to give the crucial plot of land away (to CalTrans, for them to give to TCA) to build a 241 BRIDGE over Los Osos Parkway to (the under construction) Las Patrones Parkway – the INDISPENSABLE FIRST STEP in this extension.
And with this Los Osos Bridge, already under construction, we see once again what we on this blog call "INCREMENTALIZATION" – "an inertial force in corporate activity, a gathering of momentum in which the implausible eventually becomes the inevitable." (Zenger 27:11)  In other words, they're doing this thing in little chunks until it finally seems like an inescapable done deal that the public just has to accept.
Another reason these crooks (the TCA) are doing it in little bits and pieces is that it allows them to avoid the burdensome laws – CEQA, NEPA – our state has put in place to protect the public and the environment.  
Meanwhile, according to Dawn Urbanek (I can't find her link but I tend to believe her), there are people working on the second floor of the OC Planning Department approving ALL of this stuff as fast as their little hands can move.  They are not county employees either – they are paid by the TCA per an agreement as "CONSULTANTS."  Can this be possible? Can this be legal?  And is there any help on the horizon?
A Resistance Takes Root!
Well, over the past few months, citizens of the south county but especially San Clemente have had enough, aren't gonna take it any more, and are fighting back! With their city leadership 100% on their side, with a fine "Not My Toll Road" website, a fine "Not My Toll Road" Facebook group, and a tireless investigative blogger in the person of Dawn Urbanek, San Clemente residents will not be silent or take this lying down.  As Eva O'Keefe wrote in The Voice of OC last May, 
San Clemente residents are fighting back. In a few short weeks people have mobilized creating decals, yard signs, T-shirts, posters, fundraisers and more. Thousands have signed the petition on change.org. Even HOAs have quickly passed resolutions against the Toll Roads.
But they need our help.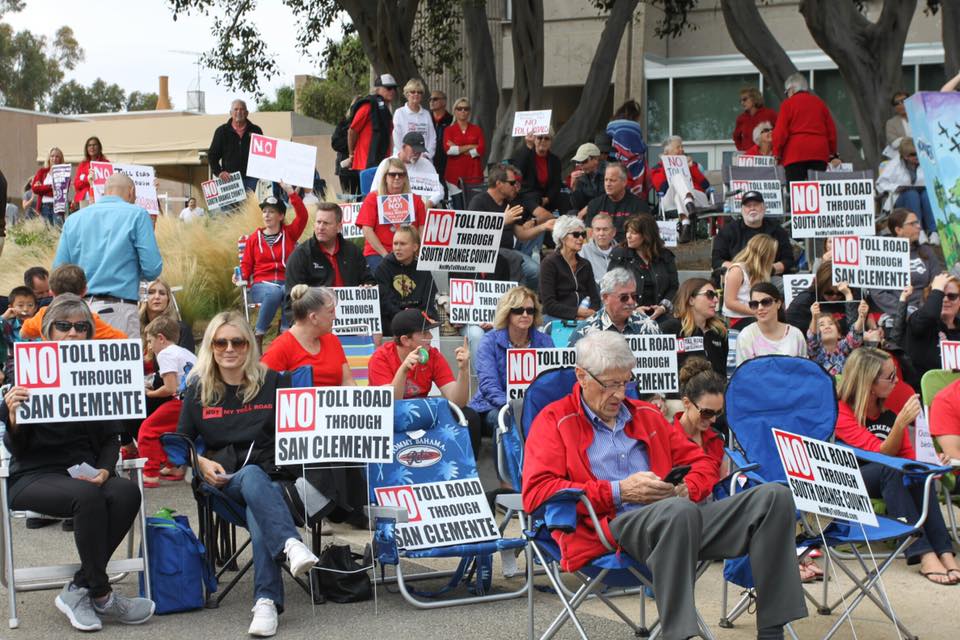 ***********
OC, this is ALL of our fight.
As I write this on Independence Day, I think of how important it is for people from all OC cities to join in each other's struggles, just as it was for the original 13 colonies to band together to get free from THEIR King George.  Couple of reasons…
We have the same oppressors, pulling the same shit all over the county – the neverending saga of the people and the environment being screwed over in the name of "progress" by private profiteers and their lackeys in (mostly county) government.  You know who TCA's OTHER "consultant" is, besides Venture Strategies, for the same cost of $1.8 million of public moneys?  None other than Pringle & Associates, the man behind nearly everything corrupt and taxpayer-robbing in Anaheim.
The insatiable South County developers who push TCA to extend its toll road are the same who've been trying 15 years to foist the Poseidon desal plant on Huntington Beach, and its costs onto all of North and Central OC, just so they can have enough water to build "two, three, MANY Rancho Mission Viejos."
The same forces and many of the same people who stack Anaheim Council with folks who'll shove hundreds of thousands of dollars of unnecessary taxpayer subsidies at hotel builders, and fill up every corner of HB with high density development.
And when we're divided, selfish, parochial, is when we're defeated.  I know this from when we fought against toll lanes on the 405 in the west county.  The only OCTA directors (out of 16) who opposed this outrageous swindle were the four who represented the affected area:  Moorlach, Janet Nguyen, HB's Matt Harper, and Seal Beach's Gary Miller.  Nobody from other parts of the county cared, they said "Suck it up, west OC."  And so far it's looking the same way with the 241, with San Clemente Mayor Kathy Ward the only TCA board member who cares about protecting her beautiful and historic city, and the other 15 directors not giving a rat's ass.  Things can't continue this way…
What can we do to help?  Well, let's start with the baby steps:
Sign the two Change.org petitions, one to Bartlett and the TCA to stop the toll road, and one to the Governor to dissolve the TCA altogether.
Go to the Not My Toll Road website and sign up.  It has upcoming events, and action plans for each week.
This terrible decision is being made for San Clemente by elected politicians from all over the county.  That means at least ONE of them – your Supervisor – and probably one more, is YOUR representative.  You can call, write, e-mail them, and explain why their continued support for the toll road extension is WRONG and needs to change.  See the politicians below.

Make it to a Board of Supervisors meeting – or even a TCA meeting – and give 'em hell!
And then maybe San Clemente will be there when WE need THEIR help.
Politician Round-up:  the Good and the Bad.
(Jesus separates the "sheep" from the "goats."  Too much?)
The Best.
Colonel Douglas Applegate, Oceanside resident and progressive Democratic candidate for Daryl Issa's Congressional seat – a district that includes San Clemente, SJC and Dana Point – has been all over this issue, as these photos will attest.  Yes, Darrell Issa has also said he opposes the extension – but it seems like with his profile he could do a lot more, make a lot more noise, maybe lead a rally even though it's not a federal issue.  To complete the trilogy… will Applegate's Irvine-corporatist Democrat rival Mike Levin even take notice of this issue?  Good for him if he does, but I will be surprised.
The San Clemente City Council, especially Mayor Kathy Ward who also sits on the TCA Board as its only Extension Opponent.  Good, that makes sense, but could we have some other councils come out against it?  San Clemente isn't the ONLY city that will experience negative effects.
The Capistrano Unified School District, which voted 6-1 recently to oppose the extension.  There's been a little confusion over this board since a few years ago it apparently sold some land that will make the extension easier.  How can you south county people forget – the board went through a major personnel change in 2010;  before that it was run by very different people, trustees aligned with Tony Beall, one of TCA's biggest toll road supporters!  TOTALLY different people now.
It is said that south county assemblyman Bill Brough, as well as south county state senator Patricia Bates, have made statements against the extension.  Good.  I hope they can both figure out ways to stop it from happening, although I know it's impossible for Republicans to get anything done in Sacramento without a lot of Democrat support.  (I'll see what I can do…  I know Senator Josh Newman would be helpful if he weren't fighting off a recall right now.)
THE WORST.  (angry-face emoticon)
LISA BARTLETT, OC Supervisor AND TCA Board Member for the South County. Given all that, you can see how Lisa would seem to be the most powerful person to make a difference on this issue, and she has been correspondingly lobbied.  So far all her votes (as with the vast majority of the Board) have been to keep moving forward with the extension – something the vast majority of her constituents oppose.  She has tried to straddle the fence in her public statements, and isn't that even worse than being a straight-up dick jerk?  She promised her constituents a definitive statement on the extension, but it's said that her assistant drafted her one and she refused to sign it.  Pessimism over Lisa seems well founded:  she is a Venture Strategies candidate (the same PR firm hired by TCA to run that mooncalf of a "public forum"), AND she is close friends with wealthy Outlet Mall developer Steve Craig, who would profit obscenely from Option 14.
The Orange County Board of Supervisors.  San Clemente is getting a taste of the non-responsiveness of the current Board, all five of whom just flow along with whatever the big money and developers want and blithely ignore the pesky public.  Dawn Urbanek recently dinged them for completely ignoring her devastating proof of TCA's illegal routing of a toll road within 500 feet of a school.  They no doubt were rolling their eyes and playing Angry Birds with each other if experience is any guide.  This Board needs a thorough housecleaning.
Finally the TCA Board itself, in the below illustration, one or two of whom are probably your elected representative, and only ONE of whom (Kathy Ward) is doing the right thing.  Some of these people (Moreno, Tinajero) I'm disappointed in;  others (Beall, Sachs) I'm not surprised by.  Hey I thought Scott Voigts was a Tea-Partier – what sort of Tea Partier gives a government bureaucracy this kind of power over the people and small businesses of a nearby town?  Hey I thought Mark Murphy was a good government pal of Mayor Tom Tait – what kind of good government is the Toll Road extension?  Tait sure wouldn't have backed it.
In any case, if any of these miscreants are YOURS, they're your responsibility.  Call 'em, write 'em, e-mail 'em, visit 'em, send 'em this article.
A final word to the TCA Board, staff, and all the busy little consultant elves up on the 2nd floor of OC's Planning Department:  Hippocrates said, "First do no harm."  Given your agency's mandate, that translates, for you, "Do nothing."  Until the legislature gets it together to disband your ill-conceived agency, just please do that – NOTHING.