.
.
.
Simultaneously, schizophrenically, emboldened by the national triumph of Donald Trump but gobsmacked and dismayed by the resounding successes of progressives locally and statewide, Surf City's angry underbelly (one or two dozen rabid souls generally clustered around former journalist Chris Epting) has gone madder than ever, ranting at each other on their increasingly closed forums about illegals, Democrats, Obama, and worst of ALL re-elected Ocean View School District President Gina Clayton-Tarvin.  
Increasingly (now that King Clem Dominguez has shuttered his ill-fated National Issues Discussion page) their ranting has been confined to a forum formerly known for constructive discussion about the Ocean View School District – the OVSD Community Group – which was taken over a while back by alt-right malcontents and has banned most dissenting voices.  And now and then we take a peek, and marvel.
A few days ago, asked by my friend Oak View activist Oscar Rodriguez to spread the word about his Democratic Delegate run, I put together a post for him and other progressive candidates in HB's 72nd district, and posted it on (what I thought was still) a pretty neutral forum – the HB CommUNITY Voice.  It immediately started getting hostile comments from Trump supporters, including from a guy who accused me of posting it there just to get Epting's attention.  He was wrong, but now he's gonna think he was right, because it did get Epting's attention.
What happened was one Denise Kavanaugh, another disgruntled ex-OVSD'er with a grudge against Gina, copied it onto the OVSDCG forum with no commentary, assuming correctly that it would be provocative enough there to draw its own derision.  Some of which I'd like to comment on and respond to myself…
It took all of two minutes for Craig Frampton, an unreconstructed and illiterate Confederate and multiple felon who claims (as everyone does) to not be "racist" while he spends all his waking hours bitching about pampered minorities, to bring up the frivolous "FPPC complaint" against Gina for supposedly not filling out some form properly – which in the unlikely event the commission eventually finds it justified, may cost her a hundred bucks: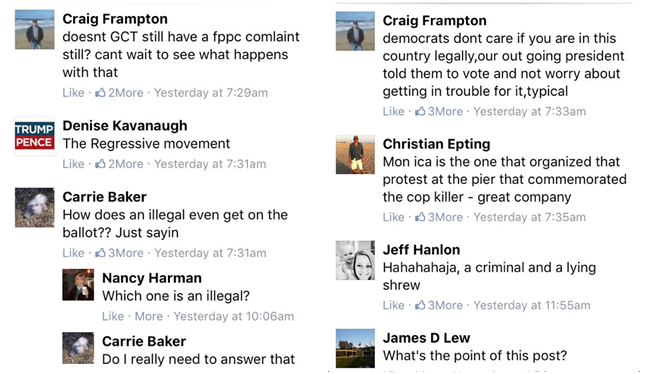 Then, after Denise's little bon mot, the irrepressible Carrie Baker gets on to repeat the HB urban myth (originated by AnneMarie Boyer) that US citizen Oscar Rodriguez is an "illegal" (something the easy-going Oscar never even bothers to correct.)  Notice how these people never type out the real names of the objects of their contempt – they hint or use nicknames or initials, or as Chris does a little later, puts a space in "Mon ica" – they have determined these tricks make it less likely they'll get kicked off Facebook for their slanders.
Rocket scientist Frampton then chimes in with the myth that President Obama encouraged "illegals" to vote.  I first heard that myth recently from HB Community Forum founder Michael Daly, who takes it as gospel;  when I challenged him on that he sent me this video from FOX News:
SURPRISE, it's a Travis Allen-sized lie! I know right, a lie from FOX News? That video was SHAMELESSLY edited to remove the President specifically emphasizing that undocumented immigrants can't vote.  Snopes provides both the full unedited transcript AND video.  But when I sent that link to Daly, he refused to look at it, claiming that Snopes is "liberal."  That's the world we're living in now – everyone protecting themselves from facts that don't fit their pre-conceptions.  And everyone turns into Craig Frampton.  
I know…
"The facts have a well-known liberal bias."

– Rob Corddry, Daily Show
Then the Big Guy joins in, noticing my friend Monica Curca on the list, and repeating one of HIS favorite lies, that the vigil for victims of police violence at the Pier last July was to "commemorate the cop killer" Micah X Johnson.  I already spent enough time debunking THAT lie over here (great comment section too.)  But that was a real high point of Epting's life – where he got to pretend he got "hundreds" of e-mails from grateful cops (none of which anyone ever saw) – grateful for Chris Epting saving them from the evil name of a cop killer!
Then who pops up but an unmitigated asshole named Jeff Hanlon, known to us only for repeatedly putting up posts during the election accusing the married Gina of sleeping with her various male supporters – posts that were left up just long enough to be seen by everybody and then removed in an abundance of caution.  His contribution today?  "Hahahaja, a criminal and a lying shrew."  (The criminal I assume must be "illegal" Oscar – ironic coming from a group including multiple felon Frampton, shoplifter Boyer, and tax-evading Epting – the "shrew" refers to Gina, although with all their talk of her lying I don't think they have ever identified ONE lie from her.)
Then, showing comically that there are still some innocent people under the impression that this is still a forum for constructive discussion of the school district, along comes one James D Lew.  Hey James, I think you're looking for the OVSD Public Forum!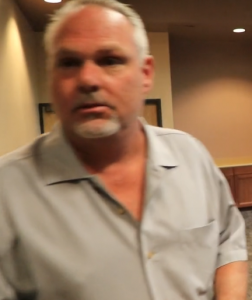 THEN who bursts in but the giant, asbestos-obsessed dolt I immortalized as a "suicide bomber" at my September concert – the unhinged man-child Jim Knapp.  "What a bunch of scum bags.  Crooked Gina and her illegal alien friends is what is wrong with America."  Is it fair to say that anyone who assumes someone who appears to be of Mexican ancestry is an "illegal" is racist?  Note his dumb non-responses to Lew's questioning.  And note the good humor of Oscar "what's wrong with America" Rodriguez' final response, thanking them all for their support! 
It looks to me like SOMETHING is wrong with America here, and it's not Oscar, Victor, Monica or Gina.  The Orange Juice Blog regrets that Oscar didn't quite make it as an assembly delegate, but we wish him good luck in the future and congratulate him on making #13 on the Daily Pilot's most influential citizens of 2016!