.
.
.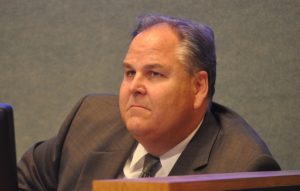 On Thursday Anaheim's somnolent, bulbous City Manager Paul Emery suffered through what he obviously considers his portfolio's dead-last item in importance:  this year's final meeting of the "Pilot Public Safety Board" (PSB.) In the two years of the PSB's increasingly rare meetings, Emery has yet to produce a report on it, promised a year ago.  No, Paul's heart – what he gets $290K a year plus a half-million severance for – is in being the servant and administrator for the now (briefly?) deposed Kleptocracy.  
This PSB, in its squirming impotence, is the creature of Paul's predecessor Marcie Edwards, bequeathed to him.  It's her doing, at the urging of the Police Association and her patrons on the last Council majority, that the Board has to divide its time between police and fire – as though anybody in 2012-13 was clamoring for Fire Department oversight.  It's her doing that it's only an "advisory" board and not investigative, and that it meets only quarterly at best – this last meeting was the first in nearly half a year.
Still, this was a meeting not to be missed – for once, instead of the usual 15 to 20 diehard police reform people, there was nearly no seat vacant – maybe sixty interested people?  This was partly due to this year's fourth questionable police killing, of 29-year old, unarmed father of four Adalid Flores, and probably also the recent districts-fueled election of a new People's Council.  In fact, there were THREE Councilmen in attendance when none had ever been seen before at one of these meetings – still-at-large James Vanderbilt, District 5's new Stephen Faessel, and District 3's new Jose Moreno, the latter of whom had two days earlier demanded the long-overdue PSB report.
The front row was taken up by half-a-dozen family members of Adalid, who, in broken voices, protested that they had still learned nothing of why their unarmed loved one needed to be killed by Anaheim police.  Most of the twenty or so speakers used their time to chew out the Board members for their uselessness and apparent indifference; "Why don't you people crawl back under the rock you came from?" snarled activist Theresa Kelly.  And investigative reporter Duane Roberts, whose complaint against Chief Raul Quezada for his misrepresentations about APD dereliction during February's KKK rally at Pearson Park was dismissed by Human Resources earlier this year, was back with loads of police documents proving the Chief's misstatements.
And this is where I'm working up to the meeting's defining moment, near the end:  After an hour of patiently enduring audience abuse, it struck the members of the Board that maybe there WAS a little something they could do – Robert Nelson, the Board's dissatisfied Alpha Dog if there is one,  proposed that the Board ask Emery to allow OIR's Michael Gennaco to examine Duane's allegations … and Robert's motion passed six to one unanimously!
And how did City Manager Paul Emery respond to the Board's request?  "I'll take that under advisement."  That is, "Go suck eggs, I'm not gonna do more than I feel like."  Incredulous gasps and laughter erupted from every corner.  My friend Carlos stood up and stomped out, loudly cursing the charade.  This is what Emery does:  Any time the Board shows any life, he smothers it with the massive pillow of his very self.
We recalled the previous meeting – (or was it the one before that?  It was all so long ago) – when Mr. Nelson had taken the initiative to invite two members of Riverside's oversight committee to speak, and they were kind enough to do so, and to describe the subpoena power they enjoy, and the investigators they sometimes employ – two features along with others that Emery had long insisted were impossible for Anaheim to provide.  Now and then Board and audience members would glance over at Paul to see if he'd notice that he was being made a liar, but he spent the whole presentation immersed in his tablet.
It will cost something like half a million to replace Mr. Emery, and the reasons to do so continue to multiply.  But it's a hard choice:  as Jose told the Anaheim Democratic Club recently, "Just think of all the other things we could do with half a million dollars."  And, "these staff people are experienced professionals, and some of them may behave much differently with new council direction."  It's hard to see, though, any Council majority forcing this fellow to take police oversight seriously.
**************
I'd mentioned Michael Gennaco and his OIR (Office of Independent Review) out of the blue;  that was rude, as you may not know who or what that is.  
The OIR is an LA-based law firm run by "civil rights lawyer" Michael Gennaco, with which Anaheim contracts out for $85,000 a year to give his input on our troubled police department and moribund oversight.  Although Duane aptly warned three years ago that Anaheim's use of OIR was a "smokescreen" to prevent and divert from real citizen oversight, Mr. Gennaco has made many decent, common-sense recommendations to the police department over these two years – which the leadership accepts or rejects as they choose.
Well, this Thursday Deputy Chief Julian Harvey took the stage to happily accept and expound on 14 out of 15 of Gennaco's latest recommendations.  Those included officers switching on their body cameras while ON THE WAY to an emergency call; and filming the trip from the arrest site to the station, during which unpleasantness often occurs.  (What most of us would like is for the public who paid for these cameras to be able to SEE the footage they take – it's supposed to be public property.  And also, no, Gabriel, Deputy Chief Cahill does not outrank Harvey; they are equal and take turns as Acting Chief.) 
This was in notable contrast to the batch of Gennaco recommendations that reputed reformer Quezada rejected back in April 2015:  "a strong policy guiding when officers are allowed to chase suspects on foot, how they should do that and under what circumstances when that chase should end;" requiring officers to give a statement to investigators within 48 hours of a shooting; defining head strikes using a flashlight, baton or other hard object as deadly force; and requiring officers to "shoot in bursts of two or three rounds before firing again, instead of continuous fire." 
But what THIS humble writer is more concerned with is getting rid of what appear to be two unwritten policies – I've started to think of them as policies since they happen so regularly and are never punished:.
It's okay to shoot with lethal intent at a fleeing unarmed suspect; and

When one officer out of a group of officers shoots at a suspect for whatever reason (apparently usually panic) the other officers must join in, in a fusillade of brotherly solidarity.  Just think, if we didn't have this unwritten policy of spontaneous firing squad, Caesar Cruz (2009), Monique Deckard (2014 15), Joe Whitehouse (2007), and Barry King (also 2007) may very well be in the land of the living with us today, with one bullet wound, instead of torn to pieces.
The "Pilot Public Safety Board" members have no idea what comes next;  there's talk of meeting in January, but it's unclear who will be on the Board, and no guidance coming from the indifferent Emery.  Real police oversight remains one more hope we hold out for our new People's Council.  And an end to the killings.