.
.
.
For the second time in two years the Orange County Board of Supervisors thought it found a piece of property that could be converted to a homeless shelter only to be forced to abandon the property due to an uprising of local residents, backed by their City Council. First, it was a site in Fullerton, and now on November 18 the Supervisors pulled the plug on a site in Santa Ana with local residents and some City Council members cheering their victory to keep a shelter out of their neighborhood.
That there are homeless with no place to go in Orange County is a given, especially in the Santa Ana Civic Center where the shopping carts, trash, half eaten food and the smell of urine prevail. Some of the homeless would love to be able to afford a cheap motel room to get off the street (or off what used to be grass in the Civic Center) regardless of the fact that those in the homeless provider industry decry the motel people and motel children as representing any kind of solution, counting them as homeless even when they have a motel roof over their heads.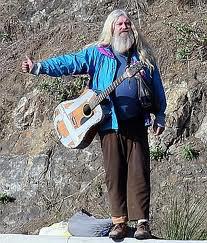 In the last few weeks I have noticed some new faces among the homeless who hang out around the nearby supermarket and  7-11. There seems to be more homeless of recent, and most of the faces that I see are ones I have not seen before. I decided to try and find out if these were Orange County's homeless, or recent arrivals. So I said to one fellow " Say, you are new around here aren't you? Where did you come from?' The answer – "I came from Georgia. If you are going to be without an abode in the winter, this is the place to be."
Suspicions confirmed. Now I'm wondering why our county government should be working to provide a shelter for homeless snowbirds who come here from outside the county. Build it and they will come – is that what we want?   And if so, in whose back yard?