Last Tuesday night, three of our five City Council members voted against an amendment that would have allowed the Black Umbrella Studio, a hybrid art gallery and tattoo studio, from opening its doors on Main Street.  Although the council chambers were overflowing with studio supporters and the council meeting went over four hours, Bruce Broadwater, Kris Beard and Dina Nguyen overlooked the overwhelming support from the community and decided to keep the doors closed on another vacant Main Street building.  The studio idea was supported by councilmen Chris Phan and Steve Jones.  There have been a few articles out on the matter already but I want to share what I saw with you.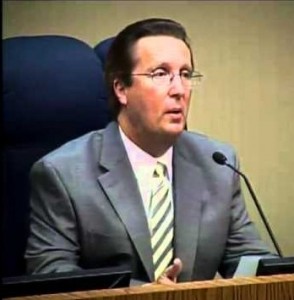 Kris Beard led the motion to deny the zoning amendment and stated that he wanted to support the businesses on Main Street.  Ironically, studio owner and artist Kurtis Gibson had more signatures from Main Street businesses in support of the studio than the those gathered by the Garden Grove Downtown Business Association in opposition.  The GGDBA is a longtime association of merchants and property owners on Main Street, predating the city's incorporation.  It also solicits Associate Members, people with an interest in the preservation and happenings on Main Street.  I am a former Associate Member and I was proud of it.  I decided not to renew membership when I learned firsthand about the way the Association operates.   Most if not all GGDBA members were against the Black Umbrella Studio opening its doors and some even vowed to close their businesses and relocate should the studio open!
It should be noted that less than half of the businesses on Main Street are members of the GGDBA.  This is mainly due to the "vision" of the GGDBA and its management (or lack thereof.)  From my own experiences, I've found them to be more obstructive than supportive of new opportunities for revenues to Main Street.  One big example is their lack of support to the annual Garden Grove Indie Film Festival, despite their claim of support for the festival in newsletters. It seems that the only idea they have is the ongoing weekly car show.  GGDBA members often disagree over that as well due to the lack of consumption amongst the car show attendees.   If a couple show up in their classic car with a cooler and eat and drink what they brought  from home rather than spending any money in the Main Street restaurants, it does make one question the benefits of closing off the street every week.
There's been talk of shutting down the weekly Farmers Market as GGDBA members feel that it it competes with the brick and mortar restaurants on the street.  Mind you, most of those are closed on Sundays but that doesn't enter their thinking.  The words "Food Truck" are anathema to the association as well.  So the GGDBA, which represents maybe one-third of the street, decided that they were against the studio. They also had the support of some of the Garden Grove Neighborhood Association, of which I am a member but chances are not for long.  (I have received some scathing comments lately.)
The GGNA and the GGDBA both share the stated goal of preserving Garden Grove and ensuring that our residents and business owners have a voice.  I have supported them wholeheartedly for years.  I have felt the pains and displeasure when our city has undermined our efforts and I have celebrated victories with them, such as the recent movement to halt the construction of the Sheldon condominiums from erasing the west side parking lot, the last full scare lot on Main Street.  Our City Council and Housing Authority almost slipped that one by us!  Both groups have good intentions and good people on their roster.  However, they do not always represent the majority of Main Street or the rest of Garden Grove.
Several members of the GGDBA are also appointed members of the Main Street Commission.  They are carefully chosen to be the voice of Main Street to our city staff.  The Main Street Commission voted a no against the studio, with one Main Street Commissioner and business owner in support of the studio.  However, the city Planning Commission unanimously supported the amendment to allow the studio to open.  At both public hearings, supporters of the studio outnumbered those against it.  Kurtis and Krystin Gibson, Garden Grove residents and owners of the Black Umbrella Studio, presented city staff with over 600 signatures in support of opening the studio. The city's Re-imagine Downtown web page gave the Black Umbrella Studio a perfect score in regards to bringing new business to Main Street. The public supported it. City staff supported it. Most of Main Street supported it. So what happened?
Opponents of the studio all repeated over and over that they were "not against people with tattoos."  Each of them either began their oral comments with that statement or used it at least once.  It sounded pretty similar to the old "One of my best friends is black" kind of thing.  They really tried hard not to appear to be against body art.  However, they also said that "children should not be subjected to tattoo studios."  They said that a tattoo studio would" drive the children out of Main Street."  Apparently, the five restaurants on Main Street serving alcohol, to take mommy and daddy's edge off at dinner time, are considered family friendly.  Opponents claimed that by allowing an "adult-themed business" to open doors on Main Street, we would be inviting other adult businesses deemed undesirable.  Hmm, I remember there being a head shop, complete with the giant Bob Marley banner in the window next to the Colony Dance Studio not too long ago.  I remember the massage parlor fronting for prostitution operating in an office building not too long ago. I know that the GEM Theatre was showing porn movies when I was a youngster.
The first business that one sees as they turn onto Main Street from Garden Grove Boulevard is the Immigration Attorney and his big red neon sign, next to the big leasing space banner.  Is this the character of Main Street the GGDBA wants to protect?  I've never thought that as a group, attorneys, had a very good reputation.  The attorney office is right next to a row of vacant shops that have failed to remain in business on Main Street.  I've seen them open and close for years.  One of Main Street's biggest challenges is that it lacks enough shops that people actually want to go to.  We have several professional services like insurance and tax preparers.  Sadly, these independent merchants are not really bringing droves of people to the street.  They're occupying storefronts that should be attracting foot traffic and offering people a place to shop.
The worst offender is the Costco Purchasing Office.  That business does not allow any customers inside.  It doesn't sell anything.  The windows are completely tinted and it resembles yet another vacant building.  It's bad enough that Costco has helped to crush the small businesses on Main Street and practically turned the street into its alternate driveway.  This is what the GGDBA and GGNA should be upset about.  Rather than making Main Street a destination, they seem to be content with desolation. Rather than welcoming in a business with the potential to reinvigorate a sleepy, often empty street, they are blocking progress.  
Main Street has had its share of brawls, stabbings, shootings, public intoxication, DUI arrests, drug sales and overdoses, alcohol-related car crashes, vandalism, and every other type of undesirable incident that might occur in a downtown gathering place.  For the GGDBA and GGNA to forecast the type of criminal element that they claim will destroy the character of Main Street is insulting to anyone who's chosen to adorn themselves with some type of body art.
At the City Council meeting, the Chief of Police, Kevin Raney, was asked if tattoo parlors have been a source of complaints in our community.  He replied that they have not received any calls from residents or businesses related to employees or customers frequenting any tattoo parlor in our city.  In fact, Councilman Phan informed him that we have nine licensed tattoo parlors operating in Garden Grove.  He was unaware that we had so many and matter-of-factly advised the City Council that they were not a source of any problems.
The notion that the Black Umbrella Studio would open the floodgates to all kinds of unsavory business on Main Street is a joke.  Any business that isn't currently allowed in the zoning restrictions of Main Street and immediate downtown area is subject to review by the Planning Commission and goes through all of the same channels that Kurtis Gibson had complied with from the beginning of his quest.  This would not be an open door allowing a free-for-all of businesses to open up shop over night and set up shop on Main Street.  Ultimately, this was the final answer from both Councilwoman Dina Nguyen and our career politician, Mayor Broadwater.
Before the night was over though, Mayor Broadwater shared some of his personal feelings regarding Main Street.  He said that art would never sell in Garden Grove, that it would collect dust.  This tells me that he believes that we are not cultured enough to spend money on an art piece.  That's pretty insulting.  The shocker to most people was his now infamous
"I'm not a big fan of Main Street. I believe that it's got about 18 different owners and they go in 18 different directions. I don't think anything's gonna happen on Main Street till it comes to one owner or maybe two owners that can agree to do things together to make it happen." 
Broadwater claimed that making changes to zones is a huge mistake. Apparently, it's only OK when his developer friends are requesting the changes.
He went on to mention a strip club in Westminster where the girls don't have anything on but their shoes, to which he said he did not want children experiencing.  Now I know that Broadwater is a church going, elderly man. I know that he maintains his set of values and morals but I don't think that he grasps that at age 18 a person becomes an adult.  Not all adults are opposed to strip clubs or body art and this is evident in that they are both billion dollar industries.  Children are not allowed to enter nude clubs nor get a tattoo but apparently Broadwater sees himself as the great defender of the children of Garden Grove he went on to confess "I'm really afraid of adult issues."
Let's go back a step and consider that the Mayor said that he was no fan of Main Street. I have had a conversation with him about Main Street before and I know what his point is.  Broadwater hates that Main Street has been an independently run group of businesses, our mom and pop shops, that the city does not control.  When he says
there ought to be one or two owners, he is talking about a complete takeover, makeover and the destruction of Main Street as we know it.  He has told me that the GEM Theater ought to be bulldozed and we build something new. Broadwater and friends have been trying to eradicate our last remaining link to the past for a long time.
Remember that Broadwater has held a position of power in this city or nearly 20 years.  The Broadwater Dynasty has stolen parking lots and the rights to land.  It's allocated and given away parcels to the colleges and the Housing Authority in an effort to permanently erase parking for Main Street.  It's made a planned effort made to strangle the Main Street businesses and drive them out so that the right developer can take it over and create the typical Starbucks, Subway, Red Robin type of street that can be found anywhere else in the country.  That may be OK for the Harbor Boulevard tourists but I'd like to see our small businesses reflecting the people of our city. 
As I write this, the Broadwater Dynasty is working hard on erasing one of the earliest neighborhoods in Garden Grove, the homes near our civic center.  We recently lost an early farm home, which is being transformed into what looks like three condos. There are more on the way.  The city is buying every property near Acacia and 8th Street that it can.  It had worked hard and contributed 25,000.00 dollars from our General Fund supporting JEDI, the return of redevelopment.  The Broadwater Dynasty's agenda is completely against small business and individual rights, and gives a big middle finger to our city's motto, "youth and ambition."