I was one of several persons invited to tour the Orange County Water Replenishment System (GWRS) this morning. I learned a great deal about the water I take for granted everyday and will share that information with you.
Here is a little history about the facility: It opened in 2008 and is next door to the Orange County Sanitation District (OCSD) in Fountain Valley. The two work together to bring clean drinking water to you and me. GWRS is the first facility of its kind in the world and they get 4,000 visitors every year! I thought all communities recycled their sewage, aka: turn dirty water in to potable water (if you don't know what potable water is, it's water that is safe to drink), but that is simply not true. For instance, Los Angeles county does not have a treatment plant. All their sewage ends up in our ocean. Yuck! Anyone want to go for a nice swim?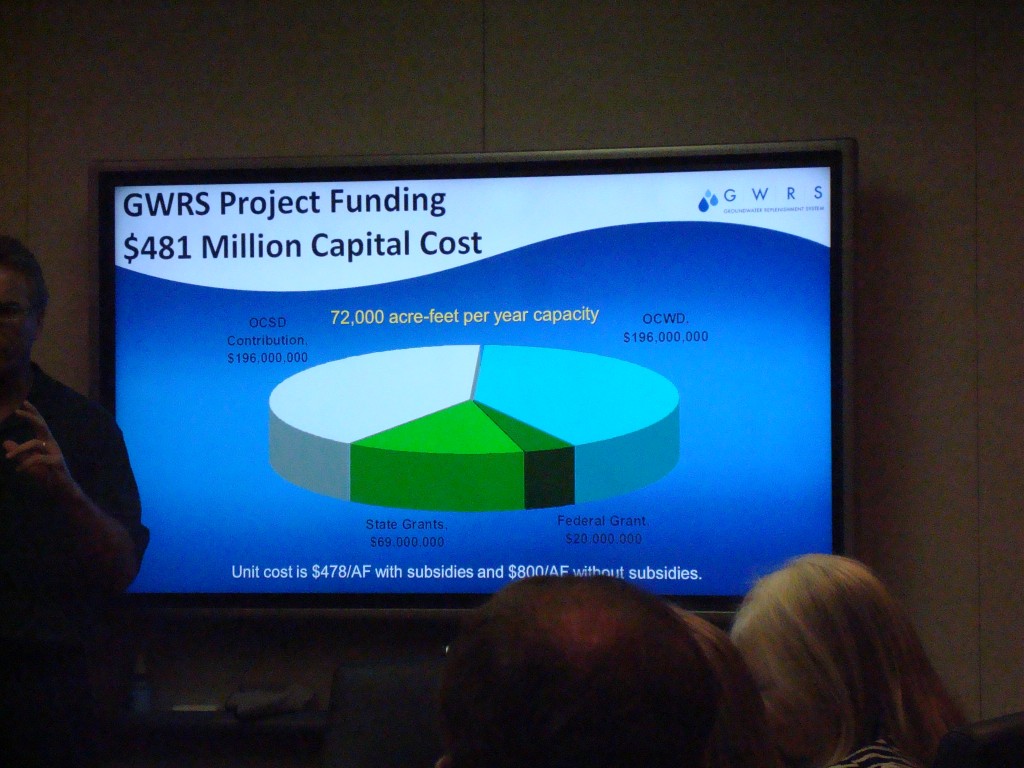 The project cost $480 million to build. Here is the breakdown of who paid what: $20 million came from the federal government; $69 million came from the State of California; OCSD and GWRS each paid $196 million.
I know that sounds like a lot of money BUT it actually is the cheapest way to bring water to its customers, which are the surrounding cities in OC, who in turn sell it to you and me. It costs $450 an acre foot compared to a desal plant (like the proposed Poseidon plant) which is $1850 an acre foot. GWRS is also environmentally sound. A desal plant is destructive to marine life living along the coast. I don't think many fish are sucked in to the pipes at GWRS (unless someone flushes Nimo down their toilet). We also don't have to have water imported, thereby decreasing our energy footprint.
Two-thirds of our water comes from OC Water Department, who buys the recycled water and the rest is from the Municipal Water Department.
One of the major benefits that I think is important, is that the sewage water is recycled in to potable water and not sent directly to the ocean. It's a more environmentally responsible way of dealing with our waste.
You're probably dying to know how sewage from your home turns in to delicious drinking water that comes out of your kitchen faucet. Well here goes: The dirty water that goes down your drain (and toilet) ends up at the OCSD. They send it via underground pipes to GWRS that processes out the nasty stuff.
The first step starts underground. Sewage is sent from OCSD through pipes that end up in the blue tanks. The blue tanks have little scrubbers (called microfiltration)  inside them that clean and separate the brine (salty wastewater).
The water then flows back up through those pipes. The foam you see is in the picture is brine. The whole process takes out 85% of the gunk and sends the rest back to OCSD.
Then its off to other smaller tanks in another building for some reverse osmosis.
The final  process is done with ultra violet rays, mixed with hydrogen peroxide.
At the end of the tour we got to sample the finished product. I must say, the water tasted pretty good.
I would like to thank Gina Ayala and Becky Mudd from GWRS for helping me maneuver through the facility and answering all my questions (and I had a lot).
So, if someone asks you if you know where your drinking water comes from, you can say, "Yes! And let me tell you how it's done."