We obviously won't be sure till June 3, but most likely those of you living in the heavily Republican 74th Assembly District, currently represented by Allan Mansoor (Costa Mesa, Newport, the southern half of Huntington, some Irvine, and Laguna Woods & Beach) will have the choice, in November, between two Republicans:  Newport mayor Keith Curry, and Emanuel Patrascu, an aide to Asm. Travis Allen and formerly to Senator Tom Harman.  So it's not too early to see exactly what sort of people Curry and Patrascu are.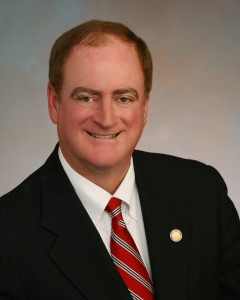 As Jon Fleischman reports, the Lincoln Club has just yanked their endorsement of Curry for soliciting and accepting a $2000 donation from the OC Firefighters union, in defiance of his pledge to do no such thing.
Now, you and I might think the Lincoln Club is pretty silly, and we might not care about their endorsement.
We might also think their policy against accepting public employee union money is silly as well.  Keith Curry certainly does.  (By the way he is a longtime member of the Lincoln Club himself, and has argued for years that that policy is silly.)
But here's the thing:  Keith promised not to do that, and then he did.  And Jon makes the case that the timing of his broken promise was perfect – all the early Republican voters were influenced by the Lincoln Club endorsement;  and now the Firefighter money will come in handy for late campaign expenses, and voters who like firemen!  Jon writes:
As for Curry's campaign — Curry had the benefit of the endorsement when it mattered the most (a disgruntled LC Board Member told me that, "Curry used the Club endorsement until getting union money mattered more, then threw us to the curb.")   And frankly Republican voters are unlikely to know that this prominent endorsement was yanked. Unless they do find out, the impact is really minimal. As I mentioned above, Curry's opponents are not swimming in campaign cash, which limits their ability to tell this story to the electorate.
And the first thing I thought was, "Well, the Orange Juice can do OUR little part to "tell the story to the electorate." Do we really need another wily calculating liar representing us in the assembly?
Well, what do we know about Emanuel Patrascu? I've told this story before, and it will probably piss off a few dozen wealthy Newporters, but that's okay. If Emanuel makes it through June 3 I'll find out a lot more about him for you-all.
We'd argued a couple of times about a couple of issues over the years when he was a Tom Harman aide, but it was always a delightful argument, with his Rumanian accent.  Then we ran into each other at the Huntington Beach bonfire his new boss Travis Allen put on "to save the bonfires."   "It's nice to be on the same side as you, Vern," he said, and told me about how these wealthy Newporters had been trying to get fire pits off the beach for at least a decade, and how he'd been assigned to meet with them a few years earlier.
"They went on for about ten minutes with bogus health and environmental arguments;  I'd done enough research not to fall for it.  But after a very short time it became crystal clear that their real problem was with people they considered 'riff-raff' coming near their houses.  One of them bitched, 'People come down from Riverside to surf and park right in front of my house!'  And I'm smiling and nodding my head, but secretly thinking, 'F**k you people, that was ME ten years ago!'"
The main reason I tell this story ONE MORE TIME is the contrast it provides with Keith Curry.  Where does Keith Curry come down on fire pits?  Keith Curry is the enemy.  Keith Curry went to the mats for the benefit of the wealthy beachside homeowners who nearly took away fire pits from the entire coast (and also make planes departing John Wayne airport go through acrobatics to spare their poor ears the noise.)

So at this point it looks like the choice will probably be between a calculating, lying, servant of the wealthy; versus a plain-speaking populist conservative who worked hard to save our bonfires.  File that away, beach city people.
[Norby story almost done…..]