Where does Matt Cunningham get his bloody "transom?"  As long as he's been blogging in this county, which is at least a decade now, it's  "This came in over the transom…" every time he wants to reprint someone's fucking press release.  Doesn't he ever get tired of such a corny old expression?  Or does he really have one of those?  Does he sit expectantly by it through vast chunks of the day, or just go into the transom room and check on it regularly?  Are transom-checks itemized in the invoices he hands his paymasters, like his listening to John and Ken and monitoring of Facebook for mentions of the First Five Children and Families Program?  Orange County wants to know!
All a long-fangled way to say, this came into my e-mail inbox the other day, NOT, alack, over my transom.  Haven't had time to fact-check it, but it looks good!
MADE IN THE USA
PAY ATTENTION FOLKS…"IT IS YOUR BUSINESS!!!!!!

Costco sells Goodyear wiper blades for almost half the price that you will pay on the outside and they are made in the U.S.A. Read and do the following:
Did you know that there is no electric coffee maker made in the US and that the only kitchen appliances made in the US is Viking?
This information came from a report made by Diane Sawyer. Hopefully this has changed or will soon!!
I DIDN'T KNOW HALLMARK CARDS ARE MADE IN CHINA! That is also why I don't buy cards at Hallmark anymore, They are made in China and are more expensive! I buy them at Dollar Tree – 50 cents each and made in USA.
I have been looking at the blenders available on the Internet.  Kitchen Aid is MADE in the US. Top of my list already…
Yesterday I was in Wal Mart looking for a wastebasket. I found some made in China for $6.99. I didn't want to pay that much so I asked the lady if they had any others. She took me to another department and they had some at $2.50 made in USA. They are just as good. Same as a kitchen rug I needed. I had to look, but I found some made in the USA – what a concept! – and they were $3.00 cheaper.
We are being brainwashed to believe that everything that comes from China and Mexico is cheaper. Not so.
One Light Bulb at a Time..
I was in Lowe's the other day and just out of curiosity, I looked at the hose attachments. They were all made in China . The next day I was in Ace Hardware and just for the heck of it I checked the hose attachments were made in USA .
Start looking, people …..In our current economic situation, every little thing we buy or do affects someone else – most often, their job.
My grandson likes Hershey's candy. I noticed, though, that it is now marked "made in Mexico ." I don't buy it anymore.
My favorite toothpaste Colgate is made in Mexico …now I have switched to Crest.
You have to read the labels on everything.
This past weekend I was at Kroger . . . I needed 60W light bulbs and Bounce dryer sheets. I was in the light bulb aisle, and right next to the GE brand I normally buy — was an off-brand labeled, "Everyday Value." I picked up both types of bulbs and compared them: they were the same except for the price . ..the GE bulbs cost more than the Everyday Value brand, but the thing that surprised me the most was that GE was made in MEXICO and the Everyday Value brand was made in – you guessed it – the USA at a company in Cleveland, Ohio.
It's Way past time to start finding and buying products you use every day that are made right here.
So, on to the next aisle: Bounce Dryer Sheets… Yep, you guessed it, Bounce cost more money and is made in Canada. The Everyday Value brand cost less, and was MADE IN THE USA! I did laundry yesterday and the dryer sheets performed just like the Bounce Free I have been using for years, at almost half the price.
My challenge to you is to start reading the labels when you shop for everyday things and see what you can find that is made in the USA – the job you save may be your own or your neighbor's!
If you accept the challenge, pass this on to others in your address book so we can all start buying American, one light bulb at a time!
Stop buying from overseas companies – you're sending the jobs there. (We should have awakened a decade ago….)
Let's get with the program and help our fellow Americans keep their jobs and create more jobs here in the USA. Support the products that are " Made in the USA "
I passed this on .. .. . Will you???
********************
Meanwhile, Greg was too busy with his celebrated DA run to get up a Weekend Open Thread as he usually does, so a friend of the blog, alarmed over this development, suggested this:
As Greg must be busy writing the reasons to convince voters why he is qualified to run against T-Rack, and Vern is busy keeping skallywag from posting too many comments per day, forcing his multiple personality to show up as Junior at the LOC, I volunteer this theme for the this week's WOT: a friend's organic garden in Westminster.

My friend lives in a senior trailer park next to Bella Terra, a booming shopping center with a brand new Costco, and a redevelopment of the surrounding area that would provoke the envy of Pringle & Associates. The residents of the park are wary of this development, as the threat of gentrification is a phenomenon not only affecting poor neighborhoods in Anaheim. In the meantime, folks at the park enjoy the best Vietnamese cuisine in the Western hemisphere, they are close to the beach, easy access to a couple of freeways (sounds like the Platinum Triangle, maybe Dan C could offer this area to Arte). They are having a hard time getting used to some modern customs, like not using plastic bags when they shop in HB.

During this WOT even Fiala/sub/Frozen from the Exile will allow to comment…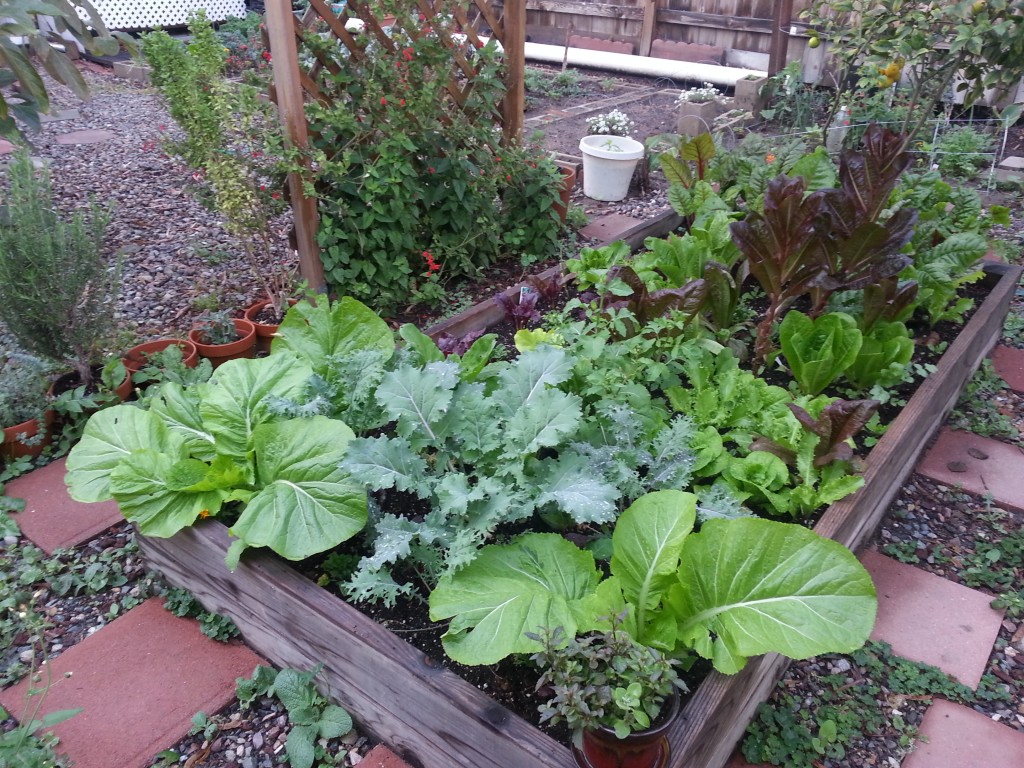 LATE ADDITION from Ricardo Toro:
Please post this video of the late Paco de Lucia. He was a great guy, he never forgot his humble origins. His politics are not well known, but he was a leftist… He was despised by right-wingers, as he never forgot his humble origins. He revolutionized the Flamenco music.
(Vern says: I'm not sure ALL righwingers hated Paco – after all, Carl Overmyer put up this video and another good one of him below. But then it's a long distance between Carl's friendly libertarianism and Pinochet's brutal corporatist totalitarianism, I suppose…)