.
.
.
I have been assured that California's Board of Equalization does SOMETHING or other, even though some of the smartest political observers of the state seem at a loss to understand, or explain, exactly what that something is.
But, observing the line-up of termed-out, between-jobs politicians vying for our area's seat on that Board next year – Diane Harkey, Mark Wyland, Lou Correa, Van Tran, Tom Harman – I think I've got it figured out:  It is a sort of cold-storage place where a career pol goes to rest and recharge – while remaining on the public teat – until the time comes for their next heroic exploits.  A lot like when Jabba the Hut froze Han Solo for a while:
Behold, if you will, Michelle Steel – the lady who has spent the last eight years representing us on that Board – the maximum time allowed in the deep freeze. Now she sallies forth with renewed strength, unbridled confidence, and BULGING CAMPAIGN COFFERS, determined to become our Second District's next Supervisor, while not even PRETENDING to live in that district, and utterly clueless and indifferent when briefed on the 405 Toll Lanes controversy. As a Democrat and old friend of Jim Moreno I'm supporting him for that seat, but if he's not the one who makes it past the June "primary," I'm busting my ass to help the old immigrant-basher Allan Mansoor beat Ms. Moneybags – he knows the area's concerns, and he has been our champion on Fire Pits and Toll Lanes both.
Similarly, when it comes to next year's race for BOE, my tastes run toward "Anybody but Harkey" – Harkey who just HAPPENS to be the endorsed choice of Steel and MUCH OF THE OC REPUBLICAN ESTABLISHMENT.  For aye, it is a sad and unjust world as things stand now, but it would be an even sadder and more unjust world, unnecessarily, if Ms Harkey received another dime of taxpayer money.  And I'll give you plenty of occasion to agree with these sentiments in the remainder of this article.
*
I do confess having a soft spot for the easy-going Robert Duvall-double Republican Mark Wyland, if only because he dared to tell the truth about Harkey to a Tea Party group back in the summer, and found himself facing the Mother of All Frivolous Lawsuits from the wolverine herself. Wait, what did Mark say about Diane, was it true, and why did she sue?
According to Diane Harkey's complaint, filed Aug. 26 in Orange County Superior Court, Wyland incorrectly portrayed the circumstances of the case by telling members of the Tri-City Tea Party, "Unfortunately there has been a lawsuit brought by a lot of investors of modest means against her and her husband for defrauding them…. There was a decision that those investors were defrauded and there is a judgment."

Harkey, whose lawsuit was first reported by the political website San Diego Rostra, says Wyland's statement was incorrect on several fronts. She was, at the time Wyland spoke, no longer a defendant in most of the claims against her husband. She also contested Wyland's description of the investors as having "modest means"; she stated in her complaint that many of the investors have a net worth greater than $1 million.
So, you got that?  Diane sued Mark for $10 million because he said "a lot of the investors" were "of modest means," whereas she contends SOME of the victims were actually rich.  WEAK TEA, Diane.  Sure, some of them were rich, but I've met a few of them now who are having to live on their social security, who have had to sell their homes, who have had to move in with their children, some have died waiting to see their money returned.  Diane's other quibbles with Mark's statement are equally inconsequential.
And it was important for the teabagging voters to know this stuff about Diane, as she may well have been their first choice.  It was important for them to know that, even though she TALKS THE LOUD TALK of a hardcore rightwing conservative, standing with Tim Donnelly and Allan Mansoor to trash Mexican immigrants back when that was cool,  likening High Speed Rail to genocide, and screeching at Governor Brown;  she is a notable NON-WALK WALKER – most comically in her fervent opposition to other people's "frivolous lawsuits," and most recently in her happily accepting a pay raise in Sacramento – which her opponents Wyland and Correa refused – while bitching nonstop about government waste.   And it was important for them to know because these teabagging voters are just the sort of elderly, hopeful capitalists that Diane and her hubby like to prey on.
Add to that, this was a personal thing to Senator Wyland, whose own elderly mother was a victim of financial fraud.   And so, walking the walk last September, he got two bills passed and signed to protect these vulnerable investors:  AB 140 and SB 543.  Here he is at a press conference, stiffening penalties on exactly the sort of crime his opponent and her husband engage in: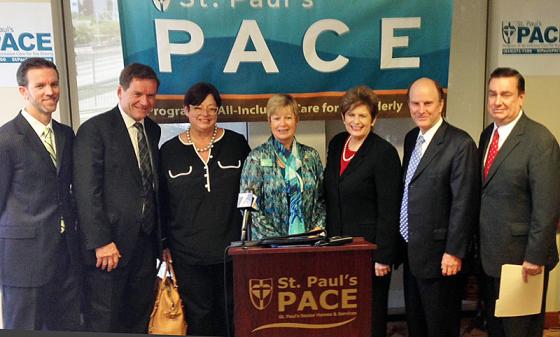 Wait a second – TEN MILLION DOLLARS?  She sued Mark for THAT much just for telling the truth about her to a group of teabagging voters?  Well, sure.  What YOU'RE not taking into account is how badly Diane's feelings were hurt.  She justified the huge amount by the "severe and grievous mental and emotional suffering, fright, anguish, shock, nervousness, and anxiety" she was suffering due to Mark's statement, and claimed to have obtained "medical treatment on a number of occasions" which would "continue for an indeterminable length of time" as of her August complaint.
Between the complete lack of grounds for her suit, the hilarious ridicule it received in the press, and Mark's threat of SLAPPing her back (with a SLAPP suit defending his freedom of speech) it wasn't real surprising when Diane dropped the suit a couple of weeks ago.  Still – $10 million – an interesting amount, as it was nearly identical to the judgment against her swindling hubby – $11 million.  (Snarked one Harkey victim, "They may break even.")
*

Well, so … what was it Mr Harkey got busted for exactly, and how knee-deep in it was Diane?  Basically his construction investment firm "Point Center Financial" made hundreds of millions of dollars in unsafe, intended-to-fail loans to friendly entities (some of whom went on to contribute to his wife's political campaigns) and then he would pay back the original investors with money from new investors whom he courted ever more aggressively.  Intended to fail?  Yes, many if not most of these were grotesquely overpriced projects out in rattlesnake-infested desert lands that NOBODY expected to ever happen.  And, blame the 2008-9 financial crisis as the Harkeys may, most of these loans failed, as designed to, around 2005 at the top of the market. 

Point Center Financial was a "ponzi scheme" – and Harkey is a second-or-third-level Bernie Madoff.  Point Center "churned" a remarkable half-billion dollars every two years, until it was just no longer possible. Here's some video of Dan in action from his irascible foe, burnt investor Lloyd Charton:
Point Center Financial Promises to Investors from Point Center Investigation on Vimeo.
So.  July saw the $11.6 million judgment against Mr Harkey and his Point Center for breaching his "fiduciary obligation" to his investment clients with "malice, fraud and oppression," along with "11 counts of elder abuse" – a court victory so far as Pyrrhic as that of our friends in the Orange Varrio Cypress against T-Rack's unconstitutional gang injunction, seeing as Dan's company had conveniently gone "bankrupt" a few months earlier.   Meanwhile, he's started up a new company, Cal Comm Capital, which seems to be doing much of the same stuff, and is reasonably suspected of hiding the assets of the old company, assets due to the old firm's investors who are now referred to as Harkey's "creditors."

So last Wednesday I was invited to a "341-a" Chapter 7 debtor hearing at which the new, court-appointed "trustee" of the bankrupt Point Center, the bearded, severe-looking Howard Grobstein, intended to grill Mr Harkey on what assets he still had that should be considered legitimately due to his new creditors.  Only, Mr Harkey didn't show up because he "wasn't feeling well."  I'm told that happens often with Harkey.  He's "invited" again to the next hearing, and if he doesn't show up THAT time he'll be subpoenaed.  Damn, these rich people get away with murder.  Instead he sent a flunky, name of Rene Esparza, who was only able to answer about half Grobstein's questions.
Some amusing moments:  the new company, Cal Comm (CCC) has only three employees, including Esparza.  They all were formerly with the old company, Point Center Financial (PCF.)  They are "servicing" the loans that PCF used to service, for the same fees that PCF woulda been getting.  Supposedly PCF was so overburdened dealing with all the litigation that they were unable to deal with servicing the loans … but it was mystifying to Grobstein and all the rest of us how simply moving three important employees to a new company could "alleviate their overwork."  "Are these CCC employees in the same building as they were when they worked for PCF?"  "Yes."  "Are they at the same desks?"  "Yes."  Laughter. "Why did you go to work for CCC?"  "Because I didn't want to work for YOU."
There was discussion of the Harkeys' many luxury cars – a Rolls Royce, a Mercedes, a couple Porsches, a Bentley, a Jaguar – and how a couple with all that could be too bankrupt to pay their elderly victim/creditors.  Mention was also made of the Harkeys' $15 million jet plane, which is now sold – Diane had claimed to have never flown in it, but subpoenaed flight records showed her using it for frequent flights to Sacramento and back. 
Did I use the phrase "knee-deep" earlier?  Diane's whole career was started and bankrolled by money from her hubby's crooked dealings, since she came out of the blue onto the Dana Point City Council in 2004. It looks with all the Harkeys' foot-dragging that many more of the elderly investors are going to be dying before they see any of their money back.  And this morning I get a typical depressed message from Mr. Sipolski, the now-impoverished polio survivor who invested with Point Center:
Once again I face a miserable and meager Christmas because Dan Harkey, husband of Assemblywoman Diane) even though he was convicted of Financial Elder Abuse and ordered to pay millions in restitution, has declared bankruptcy.

I doubt if I will ever see a cent of the jury award.

Once again I cannot afford anything this Christmas since the Harkeys have all my money.

And you can see, the "bankrupt" Harkeys are once again having their annual extravaganza next Tuesday…

I can only hope this article causes the Harkeys "severe and grievous mental and emotional suffering, fright, anguish, shock, nervousness, and anxiety" leading them to seek "medical treatment" continuing "for an indeterminable length of time."       Maybe, the least the rest of you can do is, NOT VOTE FOR DIANE HARKEY?