I should have kept up with my good old friends from Huntington Beach;  I kind of knew they had formed a "Harvest Club" a few years ago, but I had no idea it had grown countywide and was going so strong.  Here's a great Register piece they got way back in early '11, and here is their website.   Basically their idea is that the OC is overflowing with three things:
Backyard and frontyard trees and plants that produce fruits and vegetables which generally just stay there or fall, and rot;

Hungry poor people, homeless and otherwise;

Folks like themselves with extra time on weekends to hook up #1 with #2.
This seems like something my Occupy friends AND my Tea-Party friends should be able to get behind:  Bypass Big Food, Bypass Big Gummint, stick it to the Man, Do it Yourself, Power to the People!  Stay off the Grid!  Leave no Paper Trail!

This weekend alone they have three "harvests" coming up:  orange harvests Saturday in both La Habra Heights and the City of Orange, and an apple-and-orange harvest Sunday in Laguna Hills.  (E-mail volunteer@theharvestclub.org for details.)  You know what, it sounds like fun, I'll do it if you do it.  I never stopped liking climbing trees, did you?
Right now, with the Club growing at the rate it is, they're looking for a Few Good Harvest Captains. What does it take to be a Harvest Captain, I asked long-time member and friend of the blog Jane Rands?  And she responded:  "Big vehicle to fit a 6-foot ladder, 10-12 packing boxes, and picker poles."  YOU could do that!  Register here.

And those of you with trees or other plants needing to be harvested, they need YOU to register in their "Grower Database," right here.

If you find all this intriguing, then take 7 minutes and check out their video, "The Over-Giving Tree."

Here. Now some text from their expertly done website, along with pics from their Facebook page: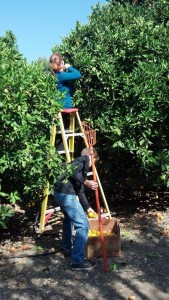 The Harvest Club began in the greater Huntington Beach area of Orange County, and is now growing harvesting teams throughout the county to harvest the incredible bounty of our community to nourish the hungry.
Mission
Feeding those in need and building community by sharing our surplus fresh fruits and vegetables from the backyards of Orange County.
Vision
Build a network of harvesting teams and productive growing spaces in Orange County that contribute to a sustainable, local food system that provides access to healthy food to all Orange County residents.
Why We Harvest?
Bring neighbors together

Provide nutritious food for the hungry

Promote sustainable uses of urban resources

Encourage home food production and minimize food waste

Do good and have fun!
Our Roots
The Harvest Club was started by a group of friends in Huntington Beach who saw an opportunity to do more for their community by harvesting and donating excess fruit from their own backyards to residents in need. They had so much fun, eventually growers and volunteers from all over the county were anxious to join the harvesting effort. We now have over 100 backyard growers registered with The Harvest Club.
With the need for fresh, healthy food increasing amongst low-income residents in Orange County, our work is tremendously important. To expand our community service, we've joined forces with OC Food Access, whose mission is to create access to healthy, local food options for Orange County's most nutritionally vulnerable residents.
We see backyard produce as an important contribution to a sustainable local food system in Southern California.
Who We Support
The Need in Orange County
It's hard to believe, but Orange County is ranked 2nd in all of California for the number of adults that experienced hunger in 2009.  Feeding America's 2009 Map the Meal Gap reported that 13.1% of the total population of Orange County and 23.4% of children in the county did not have sufficient food to eat.   All this, while we have an abundance of fresh food growing all around us.  While backyard produce cannot solve our hunger problems alone, it is sustainable source of fresh, nutritious food for those in need.
Where We Donate
We rely on the existing emergency food network to distribute the harvest.  We seek out local food pantries, churches, after school programs and service agencies feeding our neighbors in need within the communities we harvest.   By harvesting and distributing locally, we minimize the distance between where food is grown and where it's eaten.
Where Can You Donate Your Backyard Produce?
If you would like to harvest your own fruits and vegetables for donation, give us a call or send us an email.  We'll help you find the nearest distribution points in your neighborhood.
Our two local food banks are also wonderful places to drop off your backyard produce donations.
Orange County Food Bank
Address: 11870 Monarch St., Garden Grove, CA  92841
Hours to Drop Off: Mon – Fri 9am to 4pm, Sat. 9am – 1pm
Contact Number: (714) 897-6670
Second Harvest Food Bank
Address: 8014 Marine Way | Irvine, CA 92618
Hours to Drop Off: Mon – Sat 9am to 4pm
Contact Number: (949) 653-2900
– See more at: TheHarvestClub.org