I have been 99% vegan a year this November. I decided to go vegan for heath reasons and to my surprise I don't miss dairy or meat – ever. Its easy for me to fix a meal for myself at home, but eating out is – well it sucks. Not only do I have a small amount of choices from a mainstream restaurant menu, but now I have to ask my server if the food contains GMOs to which he/she replies "What's a GMO?" If I had a nickel every time I heard that question….
The first time I met Marchell was in Tustin at the local antique market. I was a vendor and she was going around the market giving away  samples of her homemade passion fruit juice.  She was opening a raw food restaurant late summer in the Artists Village in Santa Ana and was giving out samples of her specialty drinks to outdoor venues around town.  A couple of months later I attended a professional woman's networking group at Harmony Arts & Wellness Center in Huntington Beach, and guess who was there? Marchell. She even brought 5 different raw desserts that she made herself.  Like I said before, I am vegan but the only raw foods I ate were salads.  I had no idea raw food could be so delicious and her presentation looks like something one would find in a four-star restaurant.
Marchell shared her story with us at the women's group and what a story she had to tell. I knew I had to write about her for the OJB. She  is a woman who is following her dream, the American dream. Here is her story:
After years of suffering from multiple chronic health conditions, Marchell became an avid proponent of organic, living foods when she was cured of a serious illness after just eight months of a raw vegan diet. Since then, Marchell's battle with chronic asthma, eczema, Irritable Bowel Syndrome, and numerous other ailments have all joined the cured list of lifetime plagues. With the use of food as her medicine, Marchell's health is more radiant than ever, with energy to spare.
Her enthusiasm and passion for the raw food lifestyle became an entrepreneurial reality when she was laid off from a teaching position in June of 2011. Always one to embrace change, Marchell welcomed the possibilities of the future with open arms and sky-high dreams. One year later, she is the owner and executive chef of Au NatuRaw Organic Garden Eatery in The Artists Village in Santa Ana. Her vision for success is to provide living foods that promote radiant health, classes that educate others about the importance of biodiversity and sustainability, and cooperative participation in ensuring the redemption and continued well-being of our planet.
Here's our interview:
OJB: Why did you decide to open a raw food restaurant?
Marchell: Opening a RAW restaurant is the result of standing in the unemployment line and waiting for a check, but mostly because of the so few TRUE healthy options available to dine. The concept of Au NatuRaw is to provide diners the alternative option to GMO culinary faire without compromise! Au NatuRaw supports local farmers and uses all organic ingredients. Because the desire for organic ingredients has grown exponentially, Marchell's outlook for the future is that non-GMO restaurants like Au NatuRaw will become the norm vs. the oddity on the block. Customers can always trust that their dining experience is an organic experience, with a gazillion tons of complimentary, down-home hospitality.
OJB: Restaurants are a tough industry. Do you have any restaurant experience?
Marchell:  I grew up in a family that celebrated the art of culinary diversity. My mother  prepared foods from scratch and my  father was famous for his Southern dishes. I also have a twenty-something year career in the restaurant industry learning the culture, flavors, and temperaments from talented French, German, Italian, Mexican and Continental Chefs, who now inspire the specialties on Au NatuRaw's menu.
OJB: What are  some of your specialties?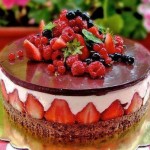 Marchell:  A  Salade Nicoise, minus the anchovies, to an eleven layer lasagne made with zucchini noodle pasta; the daily seasonal raw vegan pizza, and mole enchiladas lead the menu in entrees.
Dessert specialties include key lime pie (Dad's southern favorite), cheesecake made from cashews and young coconuts, and brownie a la mode. All desserts are organic, raw, vegan, gluten, dairy, and guilt-free!
After months pf preparation and an army of devoted volunteers Au NatuRaw will open its doors to the public on October 5th, to coincide with ArtWalk  Saturday in Santa Ana, although a soft opening is planned for October 1st. If you would like to try something new and healthy, please come to Au NatuRaw located at 206 N. Broadway, Santa Ana. CA 92701. If you want to call ahead 714-227-3944.