.
.
.
Orange County's four newly redrawn State Senate districts are not quite as exciting as our new Congressional Districts (with one probable Dem pickup and a Repug cage-match) or our new Assembly Districts (with two POSSIBLE Dem pickups.)
In fact, the one Dem senate district we do have is going to be a challenge to keep in 2014, the registration is so close.  And the other three are deep burgundy red for the foreseeable future.
Interesting fact in case you didn't know:  Senate terms being four years, the odd-numbered districts come up for a vote next year (2012, with Presidential elections) and the even-numbered not until 2014 (with gubernatorial elections.)  This is why entire families were camped out on the front lawn of the Committee's office, waiting to see how the districts would be numbered.  Well…not really.  I'm just trying to make it seem more exciting.
[Again, these map images, from here, were created by Matt Rexroad and Chandra Sharma, www.meridianhq.com]
The FIGHTING 34th – Lou Correa gets Huntington Beach!
The 34th Senate District, represented these past five years by genial half-Dem Lou Correa, has been drastically
altered, losing most of Anaheim and swallowing up much of termed-out Senator Tom Harman's old Republican district – northern HB, Seal Beach, Fountain Valley, Westminster, Los Alamitos.  The district is now essentially tied between Dem & Republican registration – maybe worse, given Republicans' greater propensity to vote around these parts.
This will create, in December of next year I assume, the interesting spectacle of nominal Democrat Correa representing my John-Birch-society parents, their FOX-News-transfixed friends, and their Dittohead neighbors.  Of course it also will mean that Lou will finally be MY senator, so I can give him even more of a rash of shit each time he favors the profits of big corporations over the needs of the people and the environment… and thank him each time he doesn't!  (Last time he saw me, he paused and said, "FRIEND OR FOE?"  I answered, "Friend, today, of course" – we were both there trying to save the Fairgrounds after all.)
But what happens here in 2014 when Lou's termed out? Chismes hold that Assemblymen José Solorio (D-Santa Ana) and Jim Silva (R-Huntington Beach) – both termed-out next year – will, after cooling their heels for two years, face each other in a combat substantially less gripping than that of Godzilla vs. Mothra.  Art points out that José and Jim are good friends though.  I would think the Republicans would have a better chance with Van Tran, given name recognition and the presence of Little Saigon in the district.  But of course Van and José are even better friends.  Which I always thought was kind of weird.
I certainly hope José, whose voting record has slid ever further to the right with his deference toward Prison Guards, big Health Insurance, and Agribusiness, doesn't react to the demographics of this new district by moving even more to the right.  I can guarantee him that's not going to help him with the Mexican-haters and Democrat-haters I grew up amongst.  Remember President Truman's dictum that "given the choice between a Republican and someone who acts like a Republican, people will vote for the real Republican all the time." The people of this district, like any district, need a progressive alternative if they're going to turn out.  José should listen more to his teacher wife, Linn Lee, who once told me she is "José's progressive alter-ego."
I miss Joe Dunn… *sigh*
*
Our three remaining Senate districts are safe Republican seats, so let's get through them quick…
Huff's SD 29 up North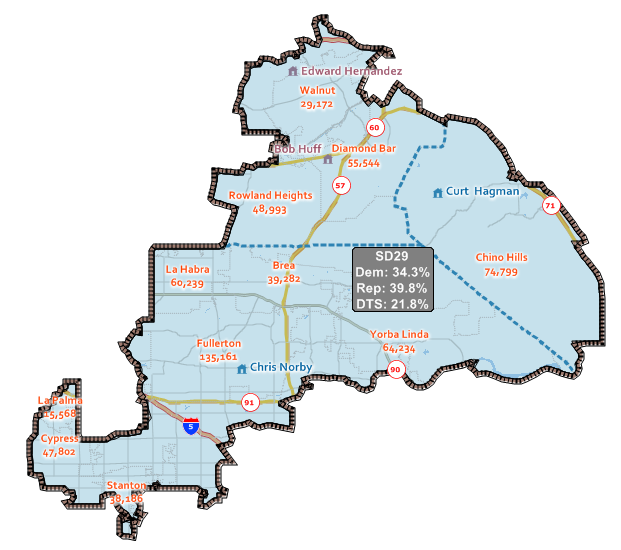 The far-right Bob Huff, who has already represented most of this area since 2008, will no doubt hang on until 2016, and have five more years to stack all the local City Councils with his aides and cronies.  Hmm.  Given this district, the new 39th Congressional, and the new 55th AD, we may as well start considering Walnut, Diamond Bar and Chino Hills honorary OC towns.  (Sorry, Greg, roll with it.)
Mimi's Central/Coastal 37th
State Senator Mimi Walters is going to be moving to Newport to run in this fanatically Republican district next year, that's what the scuttlebutt is.  First elected to the Senate in 2008, Mimi will then have an additional four years to wreak her anti-environmental mischief.
I can think of one quaint old Corona Del Mar couple – the OJ's own Ron and Ana Winship – who are going to positively swoon once they learn that Mimi will be their senator, because she is *so cute* and *listens to them.*  (No thought they give to her extreme positions.)
The open Republican SD 36, down South.
Anyone have any ideas what lucky Republican is going to be anointed here?  Most of this territory (which includes Dana Point, SJC & San Clemente) is currently represented by Senator Mark Wyland, who WOULD have had a couple years left, but he lives in Escondido.  Hey, wait a second – an even-numbered district, this shouldn't be up for grabs till 2014, but with Mimi moving up the coast and Mark sweltering inland, who will fill in during the missing two years?  A special election, I presume?
As always, please chime in with whatever you know that I don't!
*
Whoops, UPDATE. I knew something was missing.  Our little northwestern hamlets of Buena Park and La Palma are now in a Whittier-centered LA Senate District – SD 32 – which is FULLY HALF LATINO, and NEARLY HALF DEMOCRATIC (49% D to 21% R.)   Can we count that as one of ours, an OC Democratic district?  It hardly seems fair.
Senator Ron Calderon is termed out in the middle of his second term now that his district has an even number, but any Latino Democrat could walk away with it.  Right now folks are thinking of former Assemblyman Rudy Bermudez – I remember him – he was good. (I think.)