.
.
.
.
.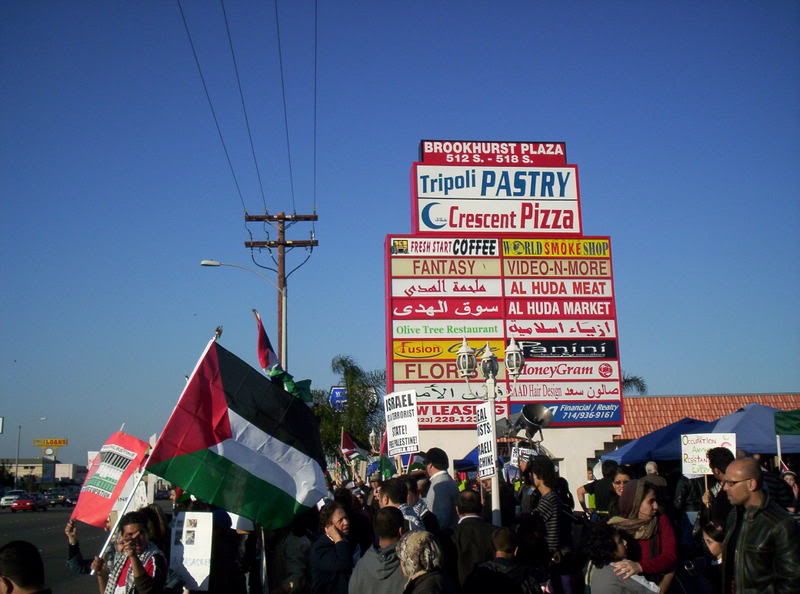 Today marks the 2nd anniversary of the Israeli assault on the Gaza Strip. It has almost been two years since there was a big protest in Anaheim's Little Arabia in January 2009 as demonstrators decried the ongoing violence of what would be a  twenty-two day war in the Middle East. I was in attendance that day, did a radio interview the following night and blogged the news of the protest as follows:
As Israeli military aggression continues against the besieged people of Gaza, an emergency protest was called by organizations such as Al-Awda today in the Little Gaza district of the city of Anaheim. An all too familiar protest plaza once more had to become a space for many Palestinians and their allies in the community to denounce the latest crimes committed by the Israeli regime.

Today's demonstration was the largest I ever attended in Little Gaza. There was no pro-Zionist presence gathered on the opposing side of the street, only Palestinian flags held by people on the march. The 750-1,00o people who took to the streets today in Anaheim is a number that will only be amplified by the march and demonstration this Saturday at the Westwood Federal Building in Los Angeles at noon. If you didn't get a chance to be at today's action, there is always this weekend.
Electronic Intifada in remembering the war and devastation today with an article that recaps conveniently forgotten facts about the conflict:
Israel launched the attack, after breaking the ceasefire it had negotiated with Hamas the previous June, under the bogus pretext of stopping rocket firing from Gaza. During those horrifying weeks from 27 December 2008 to 18 January 2009, Israel's merciless bombardment killed 1,417 people according to the Palestinian Centre for Human Rights in Gaza.
There was, of course, human rights violations committed by belligerents on all sides; the Israeli army, Hamas and others. The details of which were carefully chronicled and investigated by the balanced "Goldstone report" – which happened to find more such abuses on the part of Israel as a matter of fact.
Disagreeing, Congresswoman Loretta Sanchez, last year, joined other lawmakers in nonsensically condemning the United Nations' fact-finding report via a resolution in the House of Representatives. Ms. Sanchez can pontificate all she wants about human rights in Vietnam and other regions in the world, but her condemnation of the Goldstone report tarnishes any championing of such dignities whenever she espouses them.
I know of no actions planned in Little Arabia in Anaheim or elsewhere locally in Orange County where the assault on Gaza will be remembered. If I receive word, the news of such an event will be updated here.