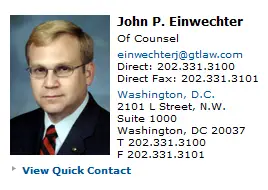 Rumors are swirling that the Congresswoman Loretta Sanchez (D-Santa Ana) could soon be walking down the aisle. Roll Call, a Capitol Hill newspaper, has received multiple tips that Sanchez recently became engaged to her boyfriend, retired Army Col. Jack Einwechter.
Who is Einwechter?  From what I have read over the years, he may have been assigned, by the Army, to act as an escort to Sanchez.  At the time he was married – and it is my understanding that he has eight kids.
Eiwechter eventually retired from the military and I found more information about him in a blog post that included these excerpts:
It has been widely alleged that Congresswoman Loretta Sanchez has been involved in an intimate relationship with her former military escort and current homeland security and defense lobbyist, John (Jack) P. Einwechter, currently "Of Counsel" at the DC law firm of Greenberg Traurig. So in the name of clearing the issue up for the many readers who come to the blog searching for the "Loretta Sanchez scandal," I thought that I would get to the bottom of it as best as I could with my research and from information from a source close to the Einwechter family, especially since there is an appearance of a conflict of interest with this particular relationship as it relates to the committees Rep. Sanchez serves on.
Click here to read the rest of this post.