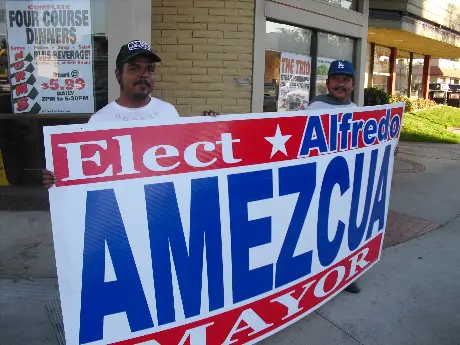 In a sign of growing desperation, Alfredo Amezcua's mayoral campaign has hired human signs to stand on the corner of 17th and Main St., in front of the Norm's Restaurant.
This is ironic since Amezcua is supported by the Usual Suspects, which include Debbie McEwen and Julie Stroud.  Both of them have been very vocal opponents to the use of human signs.
Stroud in fact used to scream about human signs at every single Santa Ana NICE Committee (which was not nice to immigrants) meeting.
I am pretty sure these guys were paid human signs.  I spoke to them and they had no idea who Amezcua is.  It was just a job.  In which case Amezcua violated the Cal/OSHA Outdoor Workers Heat Illness regulation.  Only one worker had drinking water and they were not provided with shade.
Click here to read the rest of this post and to see the rest of the pictures.